Posted on
Tue, Jul 16, 2013 : 11:47 a.m.
Heat advisory: Health department offers cooling centers in Ann Arbor area
By Amy Biolchini
With a heat advisory in effect from noon Tuesday to midnight Wednesday, Washtenaw County Public Health has announced areas where the public can cool off in air-conditioned spaces.
Temperatures are expected to top out at 91 degrees Tuesday and 90 degrees Wednesday, while the heat index, a measure of how hot it feels, is expected to reach 100 or above both days.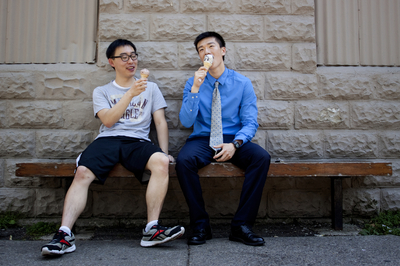 Jeffrey Smith | AnnArbor.com
"Cooling off — even briefly — may help prevent heat-related illness," said
Cindra James
, the county's Emergency Preparedness Administrator for Public Health.
Health officials are encouraging people to stay hydrated, to know the warning signs of heat-related illness and to take steps to cool off whenever possible.
The Michigan Department of Community Health lists three stages of heat-related illness:
Dehydration: Symptoms include dry mouth, thirst, headache, dizziness, cramps, excessive fatigue and irritability
Heat exhaustion: Occurs when people exercise heavily or work hard in a warm, humid place, causing a lot of bodily fluids to be lost through sweating. This can reduce blood flow to vital organs and can result in shock.
Heat stroke (sunstroke): This is the most severe stage and can be deadly. Symptoms include vomiting, decreased alertness or loss of consciousness, high body temperature and red, hot and dry skin with a rapid, weak pulse.
Should a person progress to the heat stroke stage, MDCH advises calling 911 and cooling the individual down by putting him or her in a tub of cool water or rinsing the person with a garden hose.
People who may be more vulnerable to the heat include the elderly, infants, children and people with underlying health conditions or whose medication makes them more sensitive to heat.
The following area organizations are offering their air-conditioned spaces as cooling centers during regular business hours during the heat advisory:
Ann Arbor
Ann Arbor District Library, 343 S. Fifth Ave.; (734) 327-4241
Bryant Community Center, 3 W. Eden Ct.; (734-477-0292
Catholic Social Services of Washtenaw County; 4925 Packard Road; (734-) 971-9781
Child Care Network, 2385 S. Huron Parkway, Suite 2N; (734) 975-1840
City of Ann Arbor Housing Commission, 727 Miller Ave. and Baker Commons, 106 Packard; (734) 994-2828
First Unitarian Universalist Congregation of Ann Arbor; 4001 Ann Arbor-Saline Rd.; (734) 665-6158
Office of Community and Economic Development, 110 N. Fourth Ave., Ste 300; (734) 622-9005
The Salvation Army, 100 Arbana Drive; (734) 668-8353
Zion Lutheran Church, 1501 W. Liberty St.; (734) 994-4455
Chelsea
Chelsea Retirement Community, 805 W. Middle; (734) 475-8633
Pittsfield Township
Whitehall Healthcare Center of Ann Arbor, 3370 E. Morgan Road; (734) 971-3230
Ypsilanti
Hope Medical Clinic, 518 Harriet St.; (734) 481-0111
Washtenaw County Human Services building, 555 Towner St., from 8:30 a.m. to 5 p.m.
Washtenaw County has a special Heatwave Community Response Plan in place to respond to severe heat events, but it has not been activated at this time.
That plan, which calls for opening public cooling centers for extended hours and offering emergency transportation, will only be put in to effect if a heat advisory from the National Weather Service is in effect for multiple days, if an excessive heat warning is issued or if there is a widespread loss of power.
The health department continues to monitor reports of heat-related illness. For updates on the latest advisories, the department advises visiting its website or calling 211.
For updated forecasts and conditions anytime, check AnnArbor.com's weather page.
Amy Biolchini covers Washtenaw County, health and environmental issues for AnnArbor.com. Reach her at (734) 623-2552, amybiolchini@annarbor.com or on Twitter.