Posted on
Sat, Sep 7, 2013 : 12:50 p.m.
Heart attack survivor rescued at 2011 Michigan-Notre Dame game wishes both teams well
By Lisa Carolin
University of Michigan Health System photo
When Bay City resident
Leo Staudacher
, 71, watches Saturday night's football game between Notre Dame and the University of Michigan on television at home in Bay City, the longtime Notre Dame fan will find himself wrestling with split loyalties.
I've been going to Notre Dame football games since I was 10 years old, but I'll never be able to pull against U-M again," said Staudacher.
That's because of what happened two years ago when Staudacher came to Ann Arbor with his three adult sons for the first night game at the Big House. Cheering for the Fighting Irish was a family tradition dating back several generations for the Staudacher family.
During the second quarter of the game, Staudacher experienced heartburn-like symptoms and fatigue. His arms suddenly felt heavy, and he collapsed on the two men sitting in front of him.
One of those men was dentist Marvin Sonne from Trenton, Michigan. Sonne performed CPR on Staudacher with the help of Jan Tardiff, a nurse from Bay City, who was sitting nearby.
Sonne said that Staudacher wasn't breathing and felt cold and clammy. He told AnnArbor.com, "We brought him down onto the bench, ripped open his shirt, and I began chest compressions."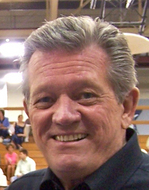 EMS arrived on the scene a few minutes later and used an automated external defibrillator to shock Staudacher. He was then transported to the U-M Cardiovascular Center, where cardiologist Dr. Stanley J. Chetcuti and a catheterization team opened Staudacher's blocked artery with emergency angioplasty.
Staudacher was able to watch the end of the football game from his bed and stayed in the hospital for the next five days. He realized then that his football allegiances were compromised.
The retired banker told AnnArbor.com, "The U of M fans, the HVA (Huron Valley Ambulance) people, and the care that I got at the hospital really impressed me."
He says, "I wish U-M well in everything. Once I survived the heart attack, it's the best thing that ever happened to me."
Staudacher has lost 25 pounds and now walks 13 miles a week.
"I'm feeling great," he said.
Who will he actually be cheering for during tonight's game?
"As much as I love U-M, I have to root for the Irish," said Staudacher, who feels like the winner no matter what the final score is in Saturday night's game.
Lisa Carolin is a freelance writer for AnnArbor.com. Contact the news desk at