Posted on
Tue, Jul 16, 2013 : 5 p.m.
Heat advisory extended through Thursday night for Ann Arbor area
By Amy Biolchini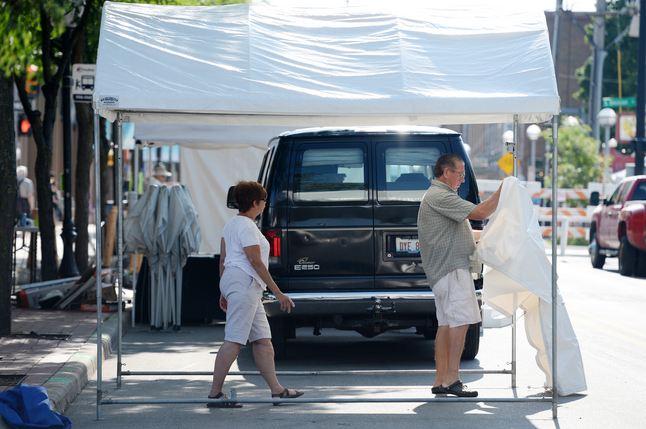 Melanie Maxwell | AnnArbor.com
The summer swelter continues in the Ann Arbor area, as the National Weather Service has extended a heat advisory through midnight Thursday.
Originally in place from noon Tuesday to midnight Wednesday, the heat advisory accompanies high humidity and maximum temperatures in the low to mid-90s.
The combination will push the heat index to about 100 degrees Wednesday and Thursday. The index was above 100 degrees in Ann Arbor at one point Tuesday as the temperature hovered around 93, according to the Weather Underground. The heat index is a measure of temperature and relative humidity.
The National Weather Service issues heat advisories when a period of hot temperatures is expected.
Health officials are urging people to stay hydrated, to keep cool and to learn the signs of heat-related illness.
Washtenaw County Public Health has announced a number of facilities will be welcoming the public this week to cool off in air conditioning.
The extended heat advisory comes as exhibitors prepare for thousands of visitors to arrive downtown beginning Wednesday for the Ann Arbor Art Fair.
The county's Heatwave Community Response Plan has yet to be triggered. The emergency response would open public cooling centers for extended hours and offer emergency transportation.
The plan will only take effect if a heat advisory from the National Weather Service is in effect for multiple days, if an excessive heat warning is issued or if there is a widespread loss of power.
For updated forecasts and conditions anytime, check AnnArbor.com's weather page.
Amy Biolchini covers Washtenaw County, health and environmental issues for AnnArbor.com. Reach her at (734) 623-2552, amybiolchini@annarbor.com or on Twitter.