Posted on
Thu, Mar 14, 2013 : 5:58 a.m.
Longtime Herb David Guitar Studio sells inventory quickly as it prepares to shut its doors
By Kody Klein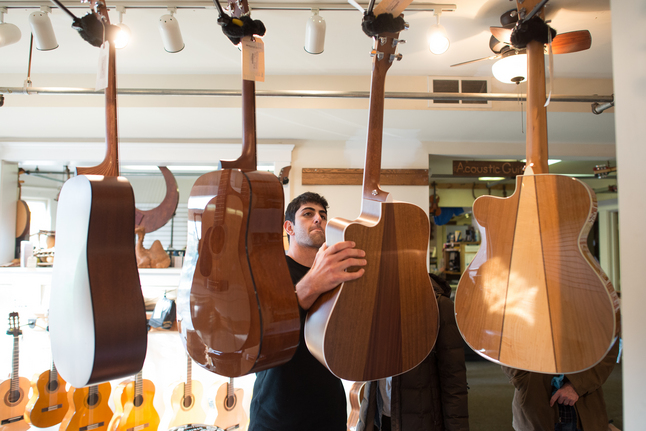 Courtney Sacco I AnnArbor.com
Efforts to liquidate inventory at
Herb David Guitar Studio
were in full-force Wednesday evening, after announcing Tuesday
the store would be closing
after
50 years of business
at the corner of Fifth and Liberty streets, in Ann Arbor.
In the 24 hours following the announcement, customers have flocked to the store to scoop up instruments and accessories at a marked-down rate. By Wednesday evening, it appeared that nearly half of the guitars usually lining the southern wall of the studio were gone.
A customer walking through the shop asked about a Fender Jazzmaster and was told by an employee that it sold that morning.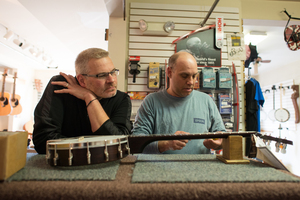 Courtney Sacco I AnnArbor.com
Of the remaining inventory, the most expensive items were marked down by $100 or more.
Adrian Smith said he and his daughter have taken lessons at the studio for five years and he bought both of their guitars from there.
"It's a shame," Smith said. "It's really an Ann Arbor institution."
Smith was playing a banjo that he was considering buying. Given the markdown, he said the deal might be too good to pass up.
Sean Rogers, the store's general manager, said even though the retail store is closing, he is hoping to rent the building's second floor so lessons can continue.
"I'm in the process negotiating with Herb and (his wife) Andrea, trying to figure out what they would want to rent the second floor to teach lessons out of," he said. "If it's going to happen, my hope would be to do it as soon as possible so there's not a lot of time for students to find other places to go or lose interest. I'd like to make it a clean transition."
The studio will officially close its doors on March 31.
Kody Klein is an intern for AnnArbor.com. Reach him at kklein@mlive.com