Posted on
Thu, Aug 9, 2012 : 5:57 a.m.
Wrecker drivers are heroes of the hook and hoist
By Rich Kinsey
It may start with a police officer radioing dispatch, "Send me a hook!" It may be a call from a cranky motorist, late for work, on the hottest or coldest day of the year whose car won't start because of a dead battery, keys locked in the car or some more serious mechanized malady.
Other days, a "wintry mix" will send motorists driving too fast for conditions and beyond the laws of physics — kinetic energy, friction and centrifugal force, to name a few — spinning into ditches, fixed objects or other vehicles. No matter how they are dispatched, wrecker drivers will push their tow trucks through any conditions to get us out of a jam.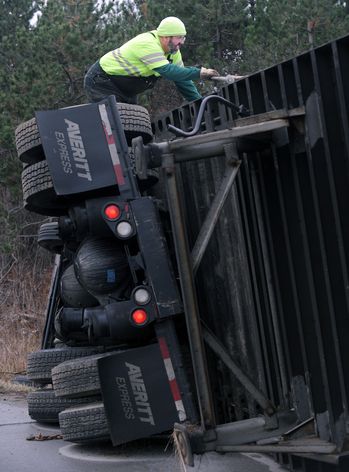 AnnArbor.com file photo
Wrecker drivers come in all different shapes, sizes and dispositions. Some will smile and talk your ear off, while others are quiet, sullen and usually only grunt in answer to your question. Some constantly chomp the unlit stub of a cigar in their mouth while others look bookwormish, but all share a very dangerous and necessary job.
Wrecker drivers are some amazing individuals. They work in the worst weather conditions, at all hours of the day or night, usually with cars whizzing by, but they very seldom complain.
To police officers who watch them work, we have to gaze with amazement at how they slide through gravel, mud, snow or slush under wrecked cars and trucks, dragging tow hook and chains in order to clear the road. Other times officers will watch these experts navigate insanely tight spots, like the parking areas around off campus student housing, to "hook" a car and then somehow thread their wrecker and impounded car out of the same tight spot.
The most unique and common feature about all of these unsung heroes is that no matter what they are faced with, they all shrug their shoulders and as "Larry the Cable Guy" — who was also the voice of "Mater," as in tow-mater the tow truck, in Disney's "Cars" movies — would say, "Git R Done."
Wrecker drivers all seem to share a cool head and a confidence that, whether it takes a wrecker or an army of wreckers, they will pull the twisted metal out of the ditch or the broken down bucket of bolts off the shoulder and clear the road.
Wrecker drivers around a college town get a bad rap because they are tasked with towing cars in violation of the law or parked on private property without permission or right. Those in violation, who did not read the signs, did not bother to obey the law or were just plain rude, will grumble and complain about how much the tow companies charge for their services, but there is usually an easy solution. Read the signs, obey the law and, if necessary, get up a little earlier in order to find a legal parking spot.
There is no sense getting angry with the wrecker driver who has been directed by the police or requested by a property owner to impound a car that is illegally parked. The man or woman hooking up the car is just doing his or her job. Those suffering their cars being towed and impounded are the ones at fault here.
We must also remember how dangerous it is to be a wrecker driver. There are no real statistics on tow truck driver fatalities — because they are lumped in with all truck drivers — but several trade journals estimate 35 to 50 tow truck divers die in traffic incidents annually. Many states, including Michigan, have enacted "Move Over Laws" to make all emergency workers on the side of the road safer.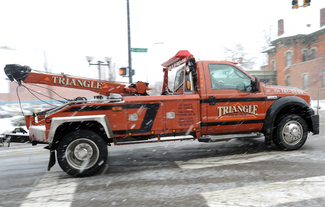 Melanie Maxwell | AnnArbor.com file photo
In Michigan,
the law
mandates that if a motorist sees emergency lights on the side of the road and there is more than one lane traveling in their direction, they are to move out at least one lane away from the emergency vehicles and personnel, if that lane of traffic is clear. If the lane is not clear or if there is only one lane in their direction, they must slow down to a safe speed — including stopping if necessary — and move as far away from the emergency crews as they can safely do so, in order that emergency crews (police, fire, ambulance and wreckers) can complete their work.
These are good laws that make it safer for emergency workers to operate. The high visibility garments, which federal laws now mandate that workers on the side of the road wear, also save lives.
Now it is up to us. We drivers must pay more attention, slow down and keep wrecker drivers and all who work along side our highways safe.
So next time you see a wrecker driver plying his trade by the side of the road, first slow down, next move over a lane if possible and then metaphorically doff your hat at these heroes of the hook and hoist. Send them all your good thoughts or prayers that they stay safe and can find you and your car swiftly next time you need them.
Lock it up, don't leave it unattended, be aware and watch out for your neighbors.
Rich Kinsey is a retired Ann Arbor police detective sergeant who now blogs about crime and safety for AnnArbor.com.