Posted on
Thu, May 30, 2013 : 5:57 a.m.
High cost of textbooks has local colleges moving toward alternatives
By Kellie Woodhouse
Textbooks aren't cheap, and they're a tacked-on cost for students attending local colleges who already bear the burden of rising tuition costs.
University of Michigan cautions students to put aside $1,050 a year for the cost of textbooks and materials, and warns that the cost could be higher for certain programs like architecture and art. Washtenaw Community College offers full-time students on scholarship roughly $1,200 for books and supplies. Eastern Michigan University suggests $1,000 a year for books.
Associated Press
"Textbooks are outrageous. We can keep our tuition affordable, but the textbooks are what we can't keep affordable,"
Rose Bellanca
, WCC president, said in
a late March interview
.
A growing number of colleges are considering ways to leverage open educational resources (OERs) — online reading and educational material offered to students for free or at a reduced cost during the course of a class — so students can forgo textbooks for certain classes.
For example, WCC will offer two classes next semester with readings available online for free instead of textbooks with high price tags. The courses — one reading course and one math course — typically have high enrollment and high textbook costs.
The offerings are part of the Kaleidoscope Project, a grant-based initiative funded by Next Generation Learning Challenges. At least 14 colleges participate in the program, which requires colleges to track the success rate of courses that use the open material against the success rate of similar courses that use traditional textbooks. Participating students also are surveyed on how they liked the use of a free, online material versus a traditional book.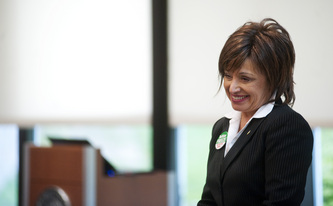 Daniel Brenner I AnnArbor.com
The cost of textbooks can keep students from buying them on time, or sometimes at all, which can mean falling behind in class. At a school like WCC, where many students have limited resources, this can be a debilitating issue.
"We have faculty commenting that students are electing in many cases to not buy the textbooks or they keep putting it off and putting it off," said Linda Blakey, WCC's vice president for student and academic services. "Textbook costs have just kind of skyrocketed."
With students opting out of buying books, success rates suffer. If learning material is made available for free, "the premise would be that there'd be higher success rates," Blakey said.
The online free material is compiled and authored by faculty throughout the country and it can be tweaked and expanded upon by the professors who want to customize the material for a course.
Meanwhile, U-M has been operating vast online library of sorts —chuck full of textbooks, classroom lectures and even educational slides— that professors can use in lieu of traditional textbooks.
This free library is available online and its materials can be modified by anyone using them. It's called Open Michigan, and the idea is that educators can point students to educational material and it doesn't cost a dime. The content on Open Michigan is licensed so that it's publicly available and adaptable, but the original content is still copyrighted to the author.
The open platform has allowed U-M to put foreign subtitles on lecture videos. Entire textbooks are available on the platform for free— one textbook was created and modified by students during an engineering course.
"We can only do this because the content is open, because we have the ability to adapt these things," says Pieter Kleymeer, a U-M staffer that's worked on Open Michigan since it was first established 5 years ago. "That's really the key here, otherwise it's just locked in a vault, essentially, and it never comes out."
Kleymeer says more professors catch on to OERs each year. Over the past five years, Open Michigan has had roughly 300,000 unique visitors, with about 75,000 them visiting for the first time in the last five months.
Kleymeer says some professors are taking material from courses they've taught during the bulk of their careers and creating their own, free textbooks online. Such endeavors are easier with static subjects, like statistics or philosophy. With fields like medicine and engineering, which are constantly adapting, scholars are still learning how to adapt OERs.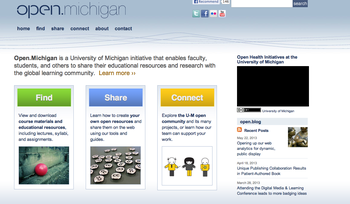 "We're definitely in the midst of a transition," said Nicole Allen, an affordable textbook advocate at Student Public Interest Research Groups. "It's obvious that it's going to go in the direction of digital, although perhaps not as fast as students originally thought."
Allen's organization estimates 3,000 professors throughout the country use open educational resources in lieu of textbooks. The number of free, quality resources remains small compared to the number of textbooks available, but it's growing at an increasing rate.
As other open education platforms grow in popularity, including Coursera —which has seen an explosion of growth— OERs are also growing in popularity and practicality.
WCC anticipates continuing with the Kaleidoscope program after the fall 2013 semester. As the Kaleidoscope Project expands its portfolio, member institutions will be able to offer more classes free of textbooks.
Rhonda Longworth, EMU's associate provost for academic programming, says professors at the Ypsilanti school are gradually beginning to recognize the benefits of OERs.
"I would say they're probably not [used by] a majority yet," she said. "I think you're going to seem them used more often... it's increasing every semester."
Longworth said that with increasing frequency students have been requesting course materials come in an electronic form.
"Students are a huge driver in this," she said. "This is a different generation of students. "Their interest in having mobile electronic devices that give them mobility in the way they access their resources is huge."
Kellie Woodhouse covers higher education for AnnArbor.com. Reach her at kelliewoodhouse@annarbor.com or 734-623-4602 and follow her on twitter.