Posted on
Sat, Feb 9, 2013 : 6:45 p.m.
Washtenaw County 'Ocean Bowl' teams face off in regional competition
By Lisa Carolin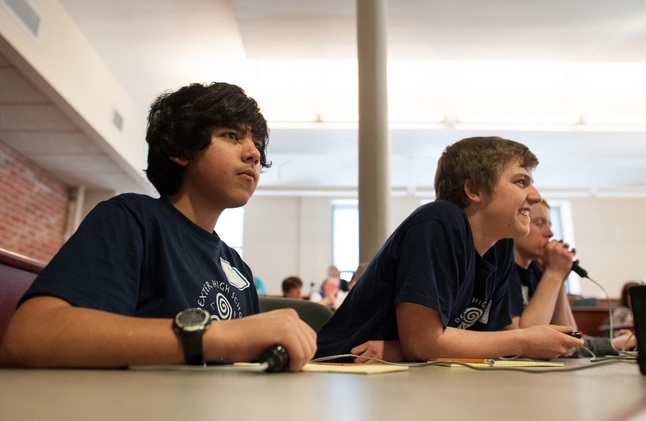 Courtney Sacco | AnnArbor.com
Dexter High School Senior Andrew Schwartz is fascinated by coral reefs.
"Coral reefs have the potential to significantly contribute to the pharmaceutical and food industries around the world," said Schwartz. "They have the greatest density of biolife on the planet."
Schwartz is a member of Dexter High School's Ocean Bowl team that competed Saturday at the Great Lakes Bowl located at the Dana Building off Church Street on the University of Michigan campus.
It's one of the 25 regional competitions across the U.S. where high school students are testing their knowledge in math and science related to ocean and Great Lakes biology, chemistry, physics, history and economics.
"I'm good in geography and with marine policy," said Schwartz, who credits his mom with convincing him to join Dexter's team a few years ago. Now it's Dexter science teacher and Ocean Bowl team co-advisor Cheryl Wells who gets the credit for keeping Schwartz interested in the club.
"I am very fortunate to have been able to coach this club for the past 16 years," said Wells, who co-advises the club with science teacher Beau Kimmey and has won a number of regional bowls and competed in several finals.
"We have guest moderators and use computers, selected reading and resources suggested by the National Ocean Sciences Bowl."
Dexter's team meets several days a week after school in the fall, and in the last few months has been meeting every day after school.
There are 16 teams competing at the Great Lakes Bowl including two other schools from Washtenaw County: Huron High School and Greenhills High School. Each team has four members and one alternate, some schools have a B team, and all teams compete in quiz-bowl style rounds that include challenge questions.
"I like the sciences and this is a way of putting them all together," said David Barbehenn, a senior and member of Greenhills' team.
"This gives you the experience of being on a team, teaches you skills and knowledge, and that science can be fun," said Allison Hogikyan, also a senior on the Greenhills team.
Huron High School team members faced off against the Roseville team in one round this morning. The two teams competed to be the first to buzz in with the correct answer, under the guidance of a judge, a moderator, a time keeper and a score keeper. Teams also answered written questions that were submitted to Ocean Bowl central where graduate students and other volunteers graded answers on a 20-point scale.
"The bowl is quite different than in previous years in that the national theme is the Great Lakes," said Kevin Keeler, regional co-coordinator and graduate student at the U-M School of Natural Resources and Environment.
Keeler says that the goal of the competition is to increase the knowledge and awareness of oceanography and marine policy for students who might not normally be exposed to the topics, and that many NOSB coaches believe that participating in the clubs and bowls encourage some students to pursue related careers.
"I am happy to report that many of Dexter's graduates continue their love and appreciation of Oceanography by taking related courses in college, working in marine bio labs, interning with summer camps specializing in outdoor science education and continuing with their graduate work in marine science," said Wells.
Top finishers Saturday were Greenhills A team. Dexter's B team came in second and Dexter's A team came in third.
They will receive cash prizes and trophies, and the winning team receives a paid trip to compete in the NOSB finals, which takes place this year from April 18-21 in Milwaukee. National prizes have included visits to research laboratories, cruises on aquatic research vessels, and computer hardware and software for the winning team's school.