Posted on
Wed, Dec 14, 2011 : 5:58 a.m.
$7,500 scholarships: Essay contest on education is partnership between EMU and AnnArbor.com
By Danielle Arndt
High school juniors and seniors looking for tuition assistance to attend college can compete in an upcoming essay contest at Eastern Michigan University to earn $7,500.
The $7,500 pays for nearly one full year of classes at EMU, said Walter Kraft, vice president of communications for the university. Currently, tuition for students enrolled in a maximum of 26 credit hours - 13 credit hours per semester - is set at $7,616.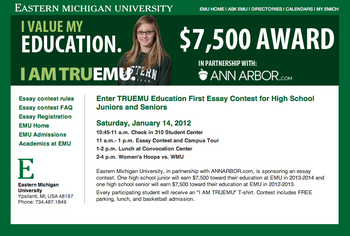 AnnArbor.com
has partnered with EMU to sponsor the
TRUEMU Education First Essay Contest
. Students will be asked to craft essays that reflect how they have made education a No. 1 priority in their lives.
"The opportunity is entirely new and we are very excited about it," Kraft said of the contest. "Writing is one of the most critical skills for determining a young person's success in college and in a professional career."
One junior and one senior will each be awarded $7,500. To enter, students in good standing must attend a contest event at 11 a.m. Jan. 14 at the EMU Student Center, 900 Oakwood St. in Ypsilanti.
Once there, students will be given blue books and other necessary materials to draft their reflections on the essay topic. Students will have 60 minutes to complete their contest entries.
Entries will be judged based on four, equally weighted criteria: creativity, originality, quality of work and commitment to education.
There are no geographic restrictions for participating in the scholarship competition. Kraft said high schoolers from across the Midwest are encouraged to attend the Jan. 14 contest.
He said several of the scholarships Eastern offers are awarded this way, with an on-site competition.
The university awards a variety of small scholarships, all the way up to its Presidential Scholarship Competition Award, which is EMU's largest academic award - a four-year, full-ride scholarship valued at about $67,000.
"We found it's beneficial to have them (the potential students) come here and experience the campus and be around some of the faculty and staff," Kraft said.
High school students were on campus recently for the Presidential competition. About 400 students from 20 states participated. EMU will award 16 scholarships based on the results.
"This is an excellent opportunity to partner with Eastern Michigan University," said Laurel Champion, executive vice president of AnnArbor.com in a statement. "EMU is a valued community partner for expanding educational excellence in Michigan's classrooms and we are proud to be a 'true' EMU partner in this initiative."
For more information or to register for the TRUEMU Education First Essay Contest, visit www.emich.edu/essay. A list of contest rules is available here.
Staff reporter Danielle Arndt covers K-12 education for AnnArbor.com. Follow her on Twitter @DanielleArndt or email her at daniellearndt@annarbor.com.