Wind advisory issued for Ann Arbor area; cold front to send temperatures plunging
Posted on Mon, Apr 16, 2012 : 7:58 a.m.
High winds today may bring down tree limbs and cause power outages in the Ann Arbor area, forecasters warn, and temperatures will plunge this evening in the wake of a cold front moving through the area.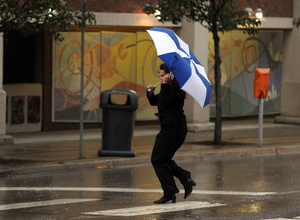 The
National Weather Service
has issued a
wind advisory
in effect from 11 a.m. until 8 p.m. today. Sustained winds of 25 to 35 mph will blow from the southwest and gust to 45 mph or higher, the weather service said.
Winds will begin to pick up by about 9 a.m. and increase through the morning, with the strongest winds from late morning into the afternoon, said Dave Gurney, a meteorologist with the National Weather Service in White Lake Township.
The weather service warned driving could become difficult for high-profile vehicles, such as vans.
Before temperatures begin to fall around 5 p.m., a high of about 70 degrees is expected. Some scattered showers are possible between 10 a.m. and noon.
Showers are possible before 9 tonight, and temperatures will fall to around 35 under partly cloudy skies. It will continue to be breezy, with a west-northwest wind between 14 and 22 mph and gusts as high as 36 mph.
Tuesday will be mostly sunny, with a high near 57 and continued breezy conditions with gusts as high as 21 mph.
For an updated forecast and weather conditions any time, check AnnArbor.com's weather page.
Contact Cindy Heflin at 734-623-2572 or email her at cindyheflin@annarbor.com or follow her on Twitter.