Man with history of indecent exposure sentenced 1 to 2 years in prison for Ann Arbor incident
Posted on Thu, Sep 20, 2012 : 6:39 p.m.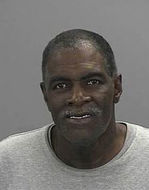 Courtesy of WCSO
A 63-year-old Highland Park man with a history of driving to the Ann Arbor area, knocking on women's windows at night and attempting to expose himself was sentenced Monday to 1 to 2 years in prison for his latest offense.
In August, Clarence McKinney pleaded no contest to a charge of aggravated indecent exposure. A charge of indecent exposure and possession of marijuana were dropped in the plea deal.
The charges stem from an incident in the 700 block of Peninsula Court of Ann Arbor in April when McKinney was caught peeping in a woman's window with his pants around his ankles.
A 63-year-old Ann Arbor woman testified at a preliminary examination that she was asleep on a couch in the living room of her condo around 1 a.m. when she heard a knocking on the window.
"I could see the shape of a large man," she testified. "I saw a shadow of a person in the window."
McKinney was standing on a table and looking into the window with his pants down, according to court testimony.
The woman ran into a bathroom and called police. The Ann Arbor officer who was dispatched to the condo said she found the man standing on the table.
"I immediately advised him to pull his pants up," Ann Arbor police Ofc. Jeanette Jerore testified.
During sentencing, Assistant Washtenaw County Defender Stephen Adams pointed out that even if McKinney's pants were down, his genitals were covered by other clothing in this particular incident.
"He did not expose his penis," Adams said. "No one ever saw his penis."
This isn't the first time McKinney has been arrested. In 2011, McKinney was convicted of first-degree home invasion for a similar instance in the same exact location, the 700 block of Peninsula Court. In that case, he tried opening the door to a woman's condo while she was reading.
McKinney reportedly was intoxicated both times. He served 10 years in prison on a charge of being sexually delinquent stemming from Oakland County, according to state prison records.
On Monday, McKinney appeared in the Washtenaw County Trial Court with an oxygen tank and pleaded with Judge Melinda Morris not to send him to prison because of his health status. He said he is in need of a lung and kidney transplant.
"Other inmates might use (the oxygen tank) to strangle people or they might try to light it on fire," McKinney said of his oxygen tank.
Morris noted that McKinney had been convicted of six felonies and 25 misdemeanors in the past before sentencing him to prison.