with gallery:

Historic DKE fraternity hall celebrates 133 years as its surroundings change rapidly

Posted on Tue, Jun 26, 2012 : 5:32 p.m.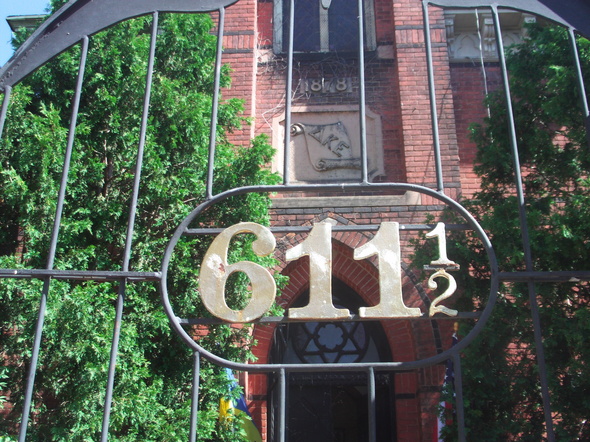 Ben Freed | AnnArbor.com

A historic building on East William Street known as "The Shant" celebrated its 133rd birthday Tuesday. The house, officially called "The Hall of Omicron," serves as a meeting place for the University of Michigan chapter of Delta Kappa Epsilon (DKE) fraternity, as well as the headquarters for the international fraternal organization and the Gerald Ford Library.

"We like to call it the world-wide headquarters, because we have chapters both here in the United States and in Canada," Doug Lanpher, Executive Director of the fraternity, said. "We moved our headquarters here from Washington, D.C. in 2004."

Architect William LeBaron Jenney, later known as the "father of the American skyscraper," designed the building. Jenney came to Ann Arbor as a professor to found the architecture program at the University of Michigan.

"It's really the only building we have that's suitable to house an archival library and a museum," Lanpher said.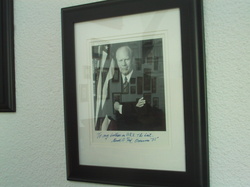 Ben Freed | AnnArbor.com
"The library is named after Gerald Ford, one of five presidents who were members of DKE. It houses books that were written by or about DKE Brothers as well as memorabilia."
According to A Century and a Half of DKE, a history of the fraternity, the building was used only for fraternity ritual in its early years.
"An exterior eight-foot high brick wall was added in 1901, increasing the building's mysterious appearance. It was used only for late night meetings, the gas-lit interior enhancing the building's eeriness."
Today, the building still sticks out as somewhat eerie, especially in comparison with its new surroundings. The neighborhood has certainly changed, with new developments such as Zaragon West popping up, and the sale of the White Market property recently completed.
Ben Freed | AnnArbor.com
Despite the fact that the lot is extremely narrow (the address is 611 1/2), developers that have been buying up surrounding properties have also cast their eyes on this historic building.
"We've started to get unsolicited bids on the property," Lanpher said. "It's going to be very tempting, some of the bids are quite generous, but we do not plan on selling any time in the near future."
Lanpher said that if developers did buy the building, they would have to maintain most of the structure because of its status as a historic building.
The Omicron chapter was founded in 1855, 10 years after the first fraternities came to the University of Michigan. The cornerstone for the chapter hall was laid in 1878 and construction finished the following year.
Below is an AnnArbor.com photo slideshow from 2009: