Posted on
Sat, Feb 4, 2012 : 2:25 p.m.
New museum exhibit traces history of substance abuse in Washtenaw County
By Lisa Carolin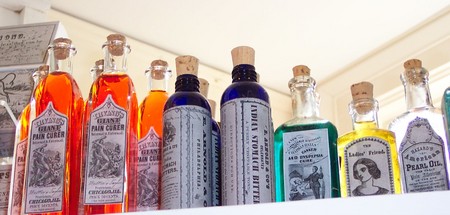 photo by Lisa Carolin | for AnnArbor.com
Opening up conversation and bringing awareness to the fact that substance abuse is far from a new problem in Washtenaw County are two of the goals of a new exhibit opening today at the Museum on Main Street in Ann Arbor.
The exhibit is called "Bad Habits: Drinks, Drags, and Drugs in Washtenaw County History," and it's a collaboration among the Unviersity of Michigan's College of Literature, Science, and the Arts, U-M's Substance Abuse Research Center and the Washtenaw County Historical Society Museum on Main Street.
"It is part of the LSA Research Theme Semester 'Hooked: Addiction, Society & Culture,'" said Maryann George, who works with LSA. "The biological, psychological, social, cultural, and spiritual components of substance use and abuse are ideal subjects for interdisciplinary examination."
U-M researchers in more than 20 departments are addressing issues including medical marijuana, prescription drug diversion and the search for medications to treat addictive disorders.
"Addiction is a brain disease," said John Traynor, organizer of the 2012 research theme semester, director of U-M's Substance Abuse Research Center, and professor of pharmacology. "More than any other disease, understanding addiction and developing methods to manage and prevent addictions require a multidisciplinary approach."
Memorable moments highlighted at the exhibit include a 1902 speech by temperance crusader Carrie Nation at the corner of State Street and North University Avenue standing on the back of a horse-drawn cab; a performance by John Lennon in support of jailed activist John Sinclair in 1971; and the opening and closing of the local Pfizer research facility.
Diane Mankowski, who has worked on the exhibit, is a board member and Exhibit Committee member at the Washtenaw County Historical Society.
"Professor Michelle McClellan, a fellow board member at WCHS, brought the exhibit to the Museum on Main Street because of her association with the U-M Substance Abuse Research Center," said Mankowski. "She thought it would be a great chance to involve the larger community in an LSA Theme Semester and attract a student population to the museum."
U-M Senior Mae Oyler, who helped with the exhibit, was at today's opening.
"I hope that it brings awareness to the community that drugs and alcohol are a big part of the campus community's history," she said.
The exhibit is open this weekend both Saturday and Sunday noon-4 p.m. and will open each weekend until Sunday, April 29. The museum is located at 500 N. Main St. For more information, see the website.