Posted on
Mon, May 23, 2011 : 5:38 p.m.
Hockey player Ian Jenkins lived life with purpose, his father says
By Juliana Keeping
UPDATE: Memorials - including games at Compuware Arena - planned this week for fallen hockey player Ian Jenkins
H.A.P.
The message stands for "Have a purpose," and it's been scrawled on star hockey goalie Ian Jenkins' mitt and leg pads since he was 9 years old.
It's how Ian lived his life, Joel Jenkins said Monday, hours after his son's life was cut short.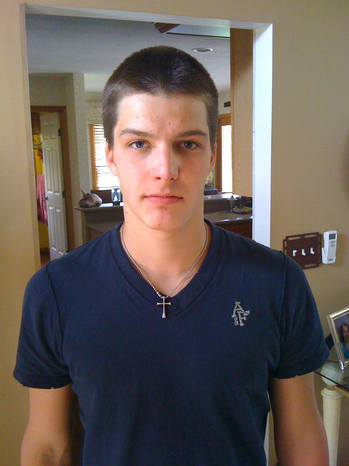 Photo courtesy of Jenkins family
Jenkins, 15, died just before 8 a.m. Monday after he fell or jumped off a pick-up truck and hit his head Thursday afternoon in Milan.
The day before the accident last week, the top goaltending prospect signed a contract with the London Knights of the Ontario Hockey League, a league that can fast-track National Hockey League hopefuls. Ian turned down several full-ride university scholarships to go that route, Joel Jenkins said. The Knights drafted Ian May 7.
The Milan High School sophomore was sitting on top of a truck bed cover of a friend's Ford Ranger after school Thursday as the vehicle, driven by a 16-year-old friend, moved slowly in an alleyway behind several homes, Jeff Lewis, the Milan police chief, said Monday. Jenkins' feet rested on the bumper. He either hopped off or fell and hit his head shortly after the truck turned and drove a few yards down Eisenhower Lane, Lewis said. His friend called 911 and emergency responders found Ian unconscious.
Jenkins did not gain consciousness again; it may never be clear exactly what happened, Lewis said. The accident is still under investigation.
Ian Jenkins was widely considered the best youth hockey goalie in the United States, said Kyle Krug, who coached Ian on the Belle Tire Midget Minor AAA under-16 team, an elite team that competes against some of the best clubs in the state and nation.
The goalie was making plans to move to London, Ontario, to begin play in the OHL in August, said Mike Hamilton, who had coached Jenkins for six years when he played for Honeybaked, another youth AAA team. Contracts like the one Ian signed on Wednesday typically include living and school arrangements. If the player doesn't turn pro after playing in the OHL, the organization typically provides money for a full college scholarship, Hamilton said.
This weekend, Ian was supposed to be in London attending a camp for recent draft picks.
"He walked around for the last two weeks on top of the world. He could not have been happier with what he just accomplished," Hamilton said. "He wanted to play in the NHL. He had one more step to go, and the next step was going to the NHL."
Joel Jenkins said he was driving to pick up his son on Thursday when he got a call about the accident. He had a bowl of ice cream to give his son from a birthday party that day for Ian's 10-year-old sister, Cassidy, one of three siblings who attend Milan schools.
The last words his son said to him were, "I love you, dad," Joel Jenkins wrote in an e-mail to family and friends.
Ian Jenkins underwent hours-long brain surgery Thursday at the University of Michigan Hospital, Hamilton said. On Friday, doctors warned the family to brace themselves when Jenkins took a turn for the worse.
"On Friday afternoon, the doctors had informed them Ian's blood pressure was not what it needed to be . . ; he had stopped getting blood to his brain," Hamilton said.
Hundreds of people streamed into the hospital to wish Jenkins well, and to say goodbye, as it became increasingly apparent he would not recover.
At first, the family didn't know what to make of it. It was overwhelming, Joel Jenkins said. Visitors were lining up to say goodbye to Ian. They came around the clock, leaving notes when they couldn't get in the room. Acquaintances, old teammates, friends, family.
"In the end, it was the most therapeutic things that happened," Joel Jenkins said. "Knowing my son, I know he held out as long as he could so he could see every possible person, or allow them to come say bye to him. I truly believe that's what he did. It was unbelievable."
The outpouring of support went far beyond the hospital walls.
As hockey message boards and Facebook posts spread the word about Ian Jenkins, messages of support streamed to the family via Facebook and Twitter from perfect strangers halfway across the world — from Germany, Italy, India and other far-off locales, Joel Jenkins said.
"With this outpouring I believe he has a larger calling in this crazy world," Joel Jenkins said.
As it became clear over the weekend that Jenkins wouldn't recover, the family made arrangement to donate Jenkins' organs.
Jenkins was kind to people, his dad said.
And that's been more apparent than ever in his final days.
A message on his Facebook page recalls an encounter from the 7th grade: "Ian, I was new to the school, and scared and alone. You were the first person who came up to me, introduced me," Joel Jenkins said.
"That was him," his dad said.
"I just know Ian is going to continue to touch people and give people inspiration. And lead them in the right direction."
Jenkins loved hockey, but it didn't define him, his dad said. At school and with family, he didn't really talk about it. He played guitar and taught himself drums and the piano, his dad said.
Ian, who was an A student, told his dad recently he wanted to be an alternative fuel engineer and study Chinese while he was in London. Joel Jenkins thinks his son was trying to ease his father's qualms about him giving up college scholarships to play hockey. It was his way of saying, "Don't worry," Jenkins said.
But Joel Jenkins wasn't worried.
Ian, he said, had a purpose.
A visitation and funeral has been planned. The visitation will be held from 2 to 9 p.m. Friday at Vermeulen Funeral Home, 46401 W. Ann Arbor Road in Plymouth. The memorial service is scheduled for 9 to 11 a.m. Saturday at Northridge Church, 49555 N. Territorial Road in Plymouth.
For more details, visit http://www.banditsgoaltending.com.
Juliana Keeping covers general assignment and health and the environment for AnnArbor.com. Reach her at julianakeeping@annarbor.com or 734-623-2528. Follow Juliana Keeping on Twitter