Posted on
Thu, Feb 9, 2012 : 1:46 p.m.
Hoekstra launches 2nd ad after controversial commercial drew heat
By AnnArbor.com Staff
Republican Senate hopeful Pete Hoekstra on Thursday launched a campaign ad days after taking heat for a spot that ran in Michigan before the Super Bowl featuring a young Asian woman speaking broken English.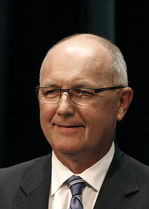 The new 30-second ad takes aim at Democratic incumbent
Debbie Stabenow
, as the first did, but features a voiceover by Hoekstra and an image of the U.S. Capitol. Hoekstra spokesman Paul Ciaramitaro said the new commercial "is being added to the rotation" but doesn't replace the ad that debuted Sunday.
Many Republicans and Democrats criticized the earlier ad, which opens with the sound of a gong and shows the woman riding a bike on a path lined by rice paddies. She thanks "Michigan Senator Debbie Spenditnow" for helping China's economy improve.
"There's no more time for 'Debbie Spenditnow,' " Hoekstra says in the new ad. "I'm Pete 'Spenditnot' Hoekstra and I approve this message."
Republican Washtenaw County Commissioner Alicia Ping is throwing her support behind Hoekstra's rival, Clark Durant, in the wake of Hoekstra's controversial Super Bowl commercial.
Ping, whose grandparents emigrated from China, called the ad "offensive and racist."
Ciaramitaro said Hoekstra was unavailable for comment Thursday, but earlier this week he told reporters that his ad's "insensitive" only to the spending philosophy of Stabenow and Democratic President Barack Obama. Hoekstra said he knew he was taking "an aggressive approach" with the ad.
The Associated Press contributed to this report.
Other related media coverage:
Watch the controversial first ad below: