Posted on
Sat, Mar 30, 2013 : 2:24 p.m.
Holocaust victims to be remembered during annual memorial service
By Lisa Carolin
Survivors of the Holocaust in Ann Arbor will present a Holocaust Remembrance Day (Yom HaShoah) memorial service on April 8 at the Jewish Community Center.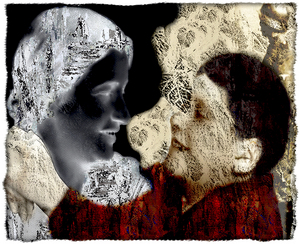 Courtesy of the artist
The event will take place from 5 to 6:30 p.m. at the Jewish Community Center of Greater Ann Arbor, 2935 Birch Hollow Drive.
It will be the second community-wide Holocaust Remembrance Day event. The purpose is to remember the massacre of 6 million European Jews during the Holocaust as well as some 5 million non-Jews.
Scott Spector, a professor of history, German and Judaic Studies, as well as the chair of Germanic Languages and Literature at the University of Michigan, will speak at the program. Survivors of the Holocaust will also share recollections of specific moments in their lives.
According to Miriam Brysk, a digital artist who uses images of real victims to create Art on the Holocaust the local group of Holocaust survivors was organized a couple of years ago.
"While Holocaust survivors have had associations in the Detroit area for many years with some participation from Ann Arbor residents, the local group deplored the lack of a meaningful commemoration of the Holocaust in Ann Arbor, unlike many smaller localities with fewer Jews," said Brysk. "We decided to mount our own and to lead it, making it community-wide without sectarianism."
Last year a dozen survivors spoke and about 180 people attended the event, a third of whom Brysk estimates were not Jewish. She expects a larger turnout this year.
"As survivors, we feel a moral obligation to remember those who perished, many in our own families," she said. "We were all children at that time, and our lives since have been plagued by the nightmares we experienced."
Brysk says that most of the older survivors are no longer alive and the number of child survivors is dwindling.
Brysk also will present two art programs in conjunction with Yom HaShoah, teaching the Holocaust through art, one at 7 p.m. on Wednesday at Eastern Michigan University's Student Center Auditorium, and on at 3 p.m. on April 7 at the Jewish Community Center.
"We hope that Yom Ha Shoah remembrance will continue in Ann Arbor long after we are gone," said Brysk.