2 for 1: Firefighters battling apartment blaze drive across parking lot to put out suspicious car fire
Posted on Tue, Jul 10, 2012 : 11:16 a.m.
A woman picked a strange time to start a car fire in an Ypsilanti Township apartment complex early Tuesday morning, given the number of firefighters already nearby fighting what they call a suspicious structure fire.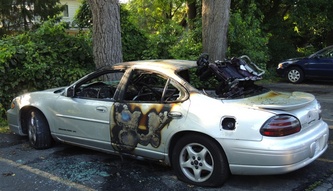 Photo courtesy of Ypsilanti Township Fire Department
While firefighters were battling the fire at
Woodcreek Apartments
, a woman is believed to have set a vehicle on fire just yards away.
Two firefighters from the Ypsilanti Township Fire Department responded to the apartment fire 716 Woodcreek Court at 12:20 a.m. Tuesday morning and four others from the department were soon sent to the scene along with several others from assisting departments.
With at least 12 additional firefighters from the Ypsilanti, Superior Township and Pittsfield Township fire departments assisting on the scene - as well as officers with the Washtenaw County Sheriff's office - witnesses said they saw a woman lighting a car on fire in a parking lot at 738 Woodcreek Court.
A witness saw a woman open the driver's side door, throw something in the vehicle and flee the scene before the care went up in flames at 2:50 a.m.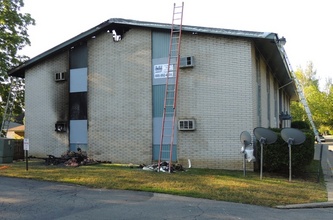 Photo courtesy of Ypsilanti Township Fire Department
The vehicle fire was extinguished by firefighters already on the scene, with both fires completely extinguished just before 4 a.m.
The cause of the apartment fire is unknown, but it originated in a ground-level apartment and damaged the units directly above and across from it.
All four apartments in the unit, which share a common hallway, needed to be evacuated. Residents, 6 adults and 4 children, received infant supplies, food, clothing and lodging from the Washtenaw-Lenawee Chapter of the American Red Cross.
The structure sustained an estimated $120,000 worth of damage, with an additional $50,000 in damages to the contents.
The vehicle fire caused approximately $4,000 in damages.
Both fires are under investigation considered suspicious in nature, Capt. Larry James with the Ypsilanti Township Fire Department.
The complex is located near East Forest and South Harris roads on the township's northeast side.
Contact Pete Cunningham at petercunningham@annarbor.com or by phone at 734-623-2561. Follow him on Twitter @petcunningham.