Posted on
Fri, Dec 30, 2011 : 9:44 a.m.
Homefront Hugs charity still needs volunteers to 'adopt' military families; Community Walk planned for New Year's Day
By AnnArbor.com Staff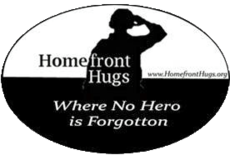 From a charity called Homefront Hugs that still needs volunteers to "adopt" a military family to a free community walk on New Year's Day, here's a roundup of some of the stories posted on AnnArbor.com's Community Wall this week:
By: Sandria Kellerman: Michigan Troops and Families still need adoption, find out more !
Homefront Hugs, a national volunteer organization headquartered in Ann Arbor, is looking for volunteers from home or your dorm room to adopt troops from Michigan and families who need a smile and encouragement

By: Bob Krzewinski: Annual Ypsilanti New Years Day Community Walk
Have you made a resolution to get more physically fit and active in 2012? Start the new year off right with a short (30-45 minute) community walk starting and ending at Library Plaza Park, 229 West Michigan Avenue, in downtown Ypsilanti.
By: Chase Ingersoll: Cause of death: lack of smoke detectors, not a lack of trucks or firemen
By: Anti Government: Robert J. Delonis Shelter Flaws-Written By: Jeffery Leftwich as part of my First Amendment Right
By: Carrie: Ann Arbor A's Reverse Raffle
By: Sue Schotts: Dexter Area Museum Appreciates the Support of the Community
By: Dale R. Leslie: www.washtenawhistory.org, link- Watchman of the Tracks
By: State Parks Rock!: Shoe Year's Day Hike - Island Lake Recreation Area in Brighton
By: Sandria Kellerman: An URGENT Appeal to Ann Arbor Hearts and Families before the New Year !
By: commenter: Michigan Municipal Plate vehicle with Chicago Residential Permit?
By: jason holmes: Shocking student loan debt figures - Think twice before wasting money
Arbor.com's Community Wall is a spot for local people to post local stories, news and announcements. To post a story, sign in to AnnArbor.com, then go to www.annarbor.com/community and use the Got News? Tell Us function at the top to submit your news. If you have a photo to add, e-mail it to us at community@annarbor.com and we'll insert it into your story.