Posted on
Wed, Feb 22, 2012 : 5:59 a.m.
Homeless encampment supporters negotiating with MDOT to keep site in Scio Township
By Kyle Feldscher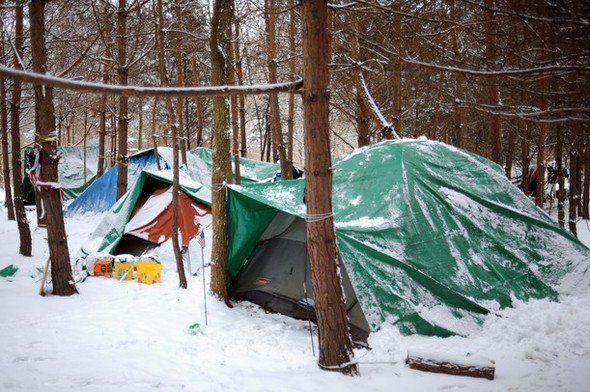 Melanie Maxwell | AnnArbor.com
Supporters of the Scio Township homeless encampment known as Camp Take Notice are circulating an online petition asking for support as discussions with the Michigan Department of Transportation about the camp continue.
However, an MDOT spokesman said Tuesday the agency has no plans to evict Camp Take Notice from the current location off of Wagner Road near M-14.
Michigan Itinerant Shelter System-Interdependent Out of Necessity, or MISSION, began circulating the petition, along with an email explaining the situation on Monday. The email states MDOT is uneasy about allowing Camp Take Notice to remain on their property.
However, MDOT spokesman Rob Morosi said Tuesday that the agency has no plans to evict the campers.
"My understanding … is we're still in discussions in an attempt to find a resolution that works for both parties," Morosi said. "We have not formally started any process as of right now and we don't plan to."
Camp Take Notice moved to the site just off Wagner Road, south of M-14, in May 2010, MISSION board member Brian Durrance said. The camp has been allowed to stay at that location longer than any of the previous four places it was located, he said.
The first encampment was in the park behind the Mallet's Creek branch of the Ann Arbor District Library, Durrance said. After being evicted from that location by Ann Arbor police, the encampment moved to behind the Meri Lou Murray Recreation Center in County Farm Park in Ann Arbor, but police eventually evicted campers from that location as well, he said.
In 2008, the camp moved to the wooded area behind the Arborland shopping center —the first location where MISSION began getting involved in helping the residents, Durrance said. It was private land, and the campers had a gentleman's agreement with Amcap Inc., the landowner, for usage of the land, he said.
However, in April 2009, the campers were again evicted by police after Amcap was pressured to remove the encampment by neighbors and store owners in the Arborland complex, Durrance said.
The camp then moved behind the Park And Ride lot near Interstate 94 and Ann Arbor-Saline Road. It took until April 2010 to be evicted from that site, and Durrance said the reason given to campers was that President Barack Obama's motorcade may come through the area when he spoke at the graduation ceremony at the University of Michigan.
Since moving to the Wagner Road encampment, MISSION and Camp Take Notice organizers have enjoyed a good relationship with MDOT, the Washtenaw County Sheriff's Office and many church organizations in the county, Durrance said. There are three neighbors around the camp who unhappy with its presence and are very outspoken with that displeasure, he said. However, he believes the camp has been a positive thing for the area.
"We're very concerned about being good neighbors, that's very important to us," Durrance said.
As of Tuesday evening, around 120 people had signed the petition to support the campers. While the petition does not state that the camp is facing eviction from MDOT, it does insinuate discussions about the camp's future are taking place.
"In its three-year history, CTN has been forcibly evicted from public land four times and now faces the potential for another eviction," it states.
As Durrance stated, the encampment behind Arborland was actually on private land, contrary to the petition's statement.
Durrance stated the camp wants to work out an agreement with MDOT so the campers can stay on the land and continue to work to improve the surrounding area. He said the campers removed between 500 and 600 bags of trash in order to even make the Wagner Road site livable, despite the fact that it had been an unofficial homeless encampment for more than 10 years.
Camp Take Notice has also adopted the stretch of Interstate 94 between Jackson Road and Zeeb Road and clean up that area regularly. Durrance said Camp Take Notice residents also clean Wagner Road regularly and have helped to regulate an area that was once a dangerous place.
He said the Washtenaw County Sheriff's Office only received five calls for service to the camp during all of 2011, a similar amount to the previous year.
He said crime, drug and alcohol use and violence have all decreased since the camp came to the location, and all MISSION and Camp Take Notice want is to stay.
"It's a human rights issue," he said. "These are people who literally have no place to go because the shelters are full. They come to us because they cannot find the services they need in other places. We're determined. We'd like to stay."
Anyone who would like to donate to Camp Take Notice can contact Peggy Lynch at 313-408-5196 or email her at margaretannlynch@yahoo.com.
Kyle Feldscher covers cops and courts for AnnArbor.com. He can be reached at kylefeldscher@annarbor.com or you can follow him on Twitter.