Posted on
Wed, Dec 21, 2011 : 10:02 a.m.
Hoping for a White Christmas in Ann Arbor? Keep dreaming
By Cindy Heflin
Anyone determined to have a Christmas like the one Bing Crosby sang about in 1942 will have to get out of town.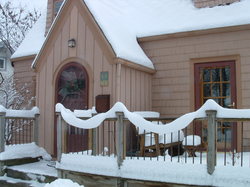 Courtesy Brian Delaney
A white Christmas won't happen in the Ann Arbor area, said National Weather Service meteorologist Rachel Kulik.
A few flakes of the white stuff are possible Thursday evening and a few more on the evening of Christmas Day, but no significant accumulation is expected, Kulik said. That may disappoint snow-lovers, but it should make for easy holiday traveling.
After some rain today and a cloudy day Thursday, Friday, Saturday and Sunday promise to be mostly sunny, at least during daylight hours, the National Weather Service said. Highs will be in the 30s all three days.