Posted on
Thu, Aug 30, 2012 : 5:40 p.m.
Hospital worker charged in hepatitis C outbreak was investigated for drug theft in Ann Arbor
By Amy Biolchini
A New Hampshire hospital worker charged with infecting 30 patients with hepatitis C was under investigation for drug theft during his employment in 2006 at the University of Michigan Health System in Ann Arbor.
David Kwiatkowski was suspended from his employment at UMHS Dec. 8, 2006, as he was a part of an investigation into the larceny of a vial of fentanyl, according to records obtained through a Freedom of Information Act request and Diane Brown, public information officer for the University of Michigan.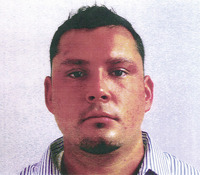 AP Photo/U.S. Attorney's Office
The vial was reported missing from near a medical procedures room in the health system by a staff member, Brown said.
Kwiatkowski, formerly of Canton, was interviewed by U-M's Department of Public Safety as a part of the investigation Dec. 15, 2006, but was never considered an official suspect because there wasn't enough information to turn the case over to the prosecutor's office, Brown said.
Fentanyl is a narcotic drug often used to treat breakthrough pain in cancer patients. It's similar to morphine, but is more potent.
Fentanyl is also the same drug investigators believe Kwiatkowski stole syringes of from Exeter Hospital in New Hampshire where he was employed as a scrub technician in the cardiac catheterization lab from April 2011 until his arrest this summer.
Investigators believe he injected himself with fentanyl, then put another liquid, such as saline, into the syringes, which were later used for patients.
About 30 patients at Exeter Hospital have tested positive for the same strain of hepatitis C as Kwiatkowski.
UMHS hired Kwiatkowsi in August 2006 as a full-time interventional radiologic technologist in the Department of Radiology. He resigned from his job at UMHS in the midst of the investigation.
According to information from the Michigan Department of Community Health, shortly after he left UMHS Kwiatkowski was hired in January 2007 at Oakwood Annapolis Hospital in Wayne, where he worked until September 2007.
Officials said he had worked at hospitals across the country, including facilities in Arizona, Georgia, Maryland, New York and Pennsylvania.
In Arizona, Kwiatkowsi was fired in April 2010 after he was found unresponsive in a men's locker room with syringes and needles.
The earliest Kwiatkowski is known to have hepatitis C was June 2010.
An FBI affidavit stated co-workers at Exeter Hospital described Kwiatkowski's behavior as consistent with the abuse of controlled substances and that he had track marks on his arms.
Hepatitis C is a bloodborne viral infection that can cause inflammation of the liver and may lead to chronic health issues. It can be detected by blood tests and treated with antiviral medications.
The Michigan Department of Community Health had launched an investigation into the timeline of Kwiatkowski's employment record in the state after his arrest July 19 in Massachusetts. Kwiatkowski worked at six Michigan hospitals between 2003 and 2007 — including St. Joseph Mercy Ann Arbor, which is not a part of the state's investigation.
Kwiatkowski was not responsible for injecting patients with narcotics as a part of his job at UMHS or at some of the hospitals where he worked in Michigan, but state health officials urged some patients to consider being tested for hepatitis C.
St. Joseph Mercy Ann Arbor offered the following statement regarding Kwiatkowsi's employment from 2003 to 2004 at the hospital as an emergency room technician:
"This individual was employed at St. Joseph Mercy Ann Arbor for less than a year. His employment with us ended in 2004, prior to the date health officials say he contracted hepatitis C."
Amy Biolchini covers Washtenaw County, health and environmental issues for AnnArbor.com. Reach her at (734) 623-2552, amybiolchini@annarbor.com or on Twitter.