Posted on
Sun, Jul 24, 2011 : 1:05 p.m.
Hot weather and harvest time can mean a jump in fast-burning field fires, officials warn
By Lisa Allmendinger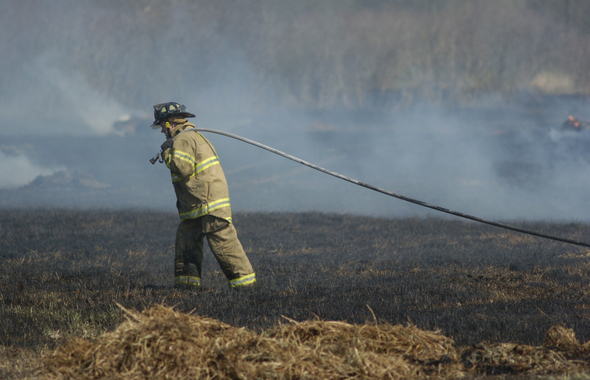 File photo | AnnArbor.com
First farmers had to endure the
wettest spring on record
for the
Ann Arbor
area, which delayed them from getting their crops in the ground.
Now, as they harvest hay and wheat, it's hot and dry — conditions that are also ripe for field fires.
In fact, Chelsea Area Authority firefighters were called to the same Lyndon Township farm twice in the last week for a pair of small farm field fires.
Luke Schaible, a Manchester farmer, said July and August are typically hot months and during harvest, wheat and hay are susceptible to catching on fire with a spark or a cigarette.
He said birds can pick up cigarettes that are still burning and drop them in a dry field, farmers can drop a cigarette butt, or drivers sometimes flick them out a car window.
Lee Root, a firefighter with Dexter Area Fire Department, who has a lot of experience with controlled burns, said it's the hot days, when there's little humidity, that can cause the biggest problem.
"High humidity reduces the chances" of a farm field fire, he said, but those days are not necessarily the optimum ones to bring in hay or wheat, which is being harvested now.
Soybeans will be harvested around Sept. 15, and corn will be cut around Nov. 15, Schaible said.
"In haying season," said Saline Fire Chief Craig Hoeft, "those big round bales (fires) can be a mess to put out," as extra care has to be taken that there are no smoldering embers that could reignite.
"It's hot already and everything is working so hard, this is when there are combine and tractor fires," he said.
So what precautions can farmers take to avoid farm field fires?
Hoeft suggests that farmers store the round bails away from other structures and barns.
Although the Saline fire department hasn't had any big field fires in the last few years, Hoeft said firefighters were called to a scene where a tractor caught on fire last year.
"Farmers can't harvest until (the grains) are ripe, or dry, so they need to make sure there's no oil leaking from their tractors," Shaible said. "Farmers should keep their engines clean of oil and dirt."
Malfunctioning farm equipment is often the culprit behind fires, said Chelsea Fire Chief Jim Payeur. Root suggested doing an extra check of combines and tractors before heading out into the field "to make sure there's no buildup of dust in areas that create friction."
On a very hot dry day, farmers should stop periodically to make sure there is no accumulation of dust that can start smoldering due to friction generated by the equipment, he said. Scio Township Fire Chief Carl Ferch said fire can be caused by grain dust settling on the exhaust system of a tractor, so if farmers notice the combine manifold smoking, they should stop, turn off the machine, and cool down the engine.
Root recommends that farmers carry a fire extinguisher in their combine or tractor, a practice he said many already follow.
And make sure that the fire extinguisher has been inspected and it's working properly, especially after it's bounced around in a combine, Payeur said.
Root and the fire chiefs agreed that farmers should immediately call 911 if they see a field fire because standing dry material can burn quickly — especially if it's windy.
"If it gets going, musty material, wheat or corn, is something that can go up quickly," Payeur said.
Root said if wind is behind a fire pushing it, a field can be "consumed in minutes."
Payeur also recommended that farmers pay attention to low-hanging wires when they are out in large combines. He said he was on the scene of a fire years ago when a farmer hit one of these wires, causing it to arc and spark, setting a large field on fire. Ferch said it has been several years since his department went out on a large farm field fire. The last time was several years ago on Marshall Road. Several acres of corn stubble caught fire.
He recommended that farmers not idle their tractors too long in one spot.
"A farmer does his best to try and prevent a fire," Schiable said.
Lisa Allmendinger is a regional reporter for AnnArbor.com. She can be reached at lisaallmendinger@annarbor.com. For more Chelsea are stories, visit our Chelsea page. For more Dexter area stories, visit our Dexter page. For more Saline stories, visit our Saline page.