Posted on
Fri, Nov 18, 2011 : 10:44 a.m.
'How I Learned to Drive' shines light on issue of child abuse; 'Try It Tuesday' encourages Dexter students to eat healthy new foods
By AnnArbor.com Staff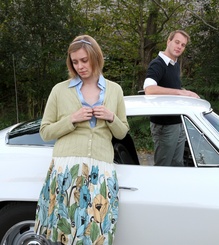 Photo by Caleb Newman
From a play about child abuse to a program that encourages Dexter pupils to try healthy new foods, here's a roundup of some of the stories posted on AnnArbor.com's Community Wall this week:
By: Catherine Zudak: See "How I Learned to Drive"
Anyone confused about the Penn State scandal should see "How I Learned to Drive, at Ann Arbor Civic Theatre this weekend. It so clearly demonstrates how the abuser can lure a child in with love and attention.
By: Jill Boydston: Try It Tuesday - Dexter Community Schools
Fruit and veggie sampling will be a year-long event that will be provided to all K-6 students. The Move Forward Program has many objectives, one is to increase the consumption of healthful foods, particularly vegetables and fruits.
By: vera chiu: Mathnasium of Ann Arbor Open House - Free Tangram Games Event and Pizza Party
By: A2Parks: Instructional skating lessons offered at Veterans Memorial Indoor Ice Arena
By: Molly Stamos: Free Holiday Boot Camp for Toys For Tots
By: Jill Boydston: Wylie Elementary School, Dexter
By: jason holmes: Things to consider while selecting a debt consolidation company
Arbor.com's Community Wall is a spot for local people to post local stories, news and announcements. To post a story, sign in to AnnArbor.com, then go to www.annarbor.com/community and use the Got News? Tell Us function at the top to submit your news. If you have a photo to add, e-mail it to us at community@annarbor.com and we'll insert it into your story.