Posted on
Thu, Jan 3, 2013 : 5:59 a.m.
Is a University of Michigan education a good value? Ranking reports yes
By Kellie Woodhouse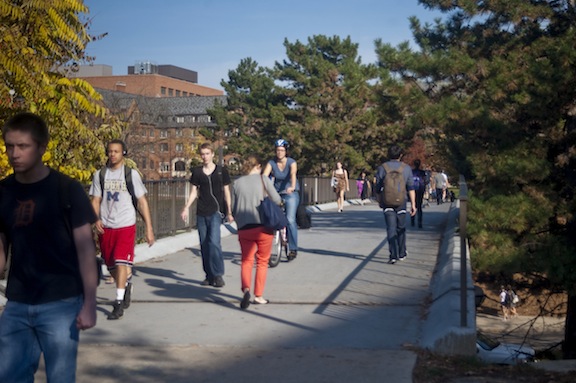 How much bang for your buck are you getting at the University of Michigan?
According to Kiplinger, the Ann Arbor school is the 11th best in-state value among public colleges.
For out-of-state students, it's ranked as the 18th best value— in spite of being the most expensive school for non-residents on a list of 100 'best value' public institutions.
Melanie Maxwell | AnnArbor.com
Kiplinger released its Best Values in Public Colleges 2012-13 list month. The list ranks public schools across the nation based on cost, financial aid, overall student loan debt, competitiveness and academic excellence of public schools.
Cost factors composed 45 percent of the formula, while academics composed the remaining 55 percent.
The top five in-state values, as ranked by Kiplinger:
University of North Carolina at Chapel Hill
University of Virginia
University of Florida
College of William and Mary
University of Maryland, College Park
Although Kiplinger reports the total cost of attendance at U-M as $23,794 per year for in-state students, it estimates that residents, on average, end up paying $11,606 per year after factoring in aid. The average cost for out-of-state students is $37,734, less than the sticker price of $49,922.
According to U-M figures, nearly 70 percent of residents and 50 percent of out-of-state graduates receive some level of financial aid. In 2011-12, roughly $188 million in aid was distributed to undergraduates. Of that, $50 million came from government sources and $138 million was awarded by the university.
This year's 6,171-student freshman class is composed 57.4 percent of Michigan residents and 42.6 percent from out-of-state, marking the largest non-resident enrollment level of recent history.
The average student loan debt among U-M graduates is $27,644, according to Kiplinger.
U-M's ranking on the list has risen over time. In 2010 the school was ranked 19th on the list for in-state students and 24th on the list for out-of-state students (although in 2011 U-M ranked 22nd for resident students).
Michigan State University ranked 46th on the list. Although the in-state cost of attendance at MSU is $1,600 less than the sticker price of U-M, resident students at U-M actually end up paying $1,900 less, on average, than at MSU after need-based aid is factored in.
Even once need-based aid is factored in, U-M is the most expensive public college for out-of-staters, according to the Kiplinger ranking.
U-M has the 14th highest average debt burden of the 100 ranked schools.
Kellie Woodhouse covers higher education for AnnArbor.com. Reach her at kelliewoodhouse@annarbor.com or 734-623-4602 and follow her on twitter.