Posted on
Mon, Jan 9, 2012 : 5:59 a.m.
University of Michigan eyes e-books as a way to lower soaring textbook costs
By Kellie Woodhouse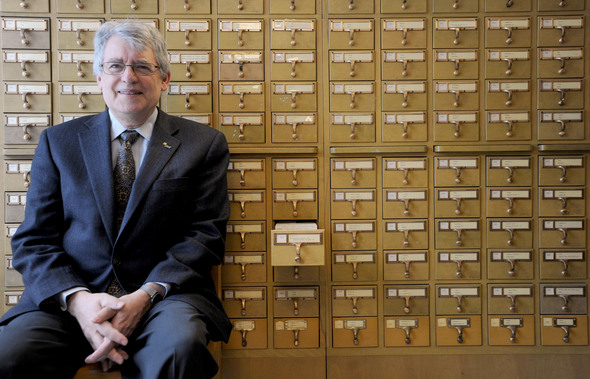 Angela J. Cesere | AnnArbor.com
The
University of Michigan
is considering widely
embracing electronic textbooks
in the coming years.
But how cost effective will a move toward the 21st century version of the classic textbook be?
U-M librarian Paul Courant estimates that a typical e-book costs between 20 and 30 percent less than its printed counterparts. But he says it's possible to lower costs further.
At a Senate Advisory Committee on University Affairs meeting in late November, Courant said that if the university can create partnerships with textbook publishers, the school could possibly negotiate low, bulk prices and make e-books available to students as part of a course fee.
"What will happen if we don't do anything about it?" Courant asked of soaring textbook costs during the November meeting. "The publishers and the booksellers will get very good at selling to our students. Electronic textbooks... will be somewhat cheaper, in the range of 80 to 70 percent of the cost, rather than a real breakthrough."
Public university students spend an average of $1,168 on textbooks per year, according to 2011-2012 figures from the College Board Advocacy and Policy Center.
Recently released results of a new study by Daytona State College show that while most students realize some level of cost savings when buying electronic textbooks, some e-books are nearly as expensive as traditional books.
The study found that in one economics course, e-books were generally about half as expensive as print books. In another economics class, however, the electronic version of a textbook was just $1 cheaper than its printed counterpart.
Couple low savings with the inability to resell used electronic textbooks, and sometimes e-book savings are non-existent.
Meanwhile, printed textbook rentals ranged between 70 and 75 percent less than the cost of a new textbook and were the cheapest option for students, the study found.
Courant, however, envisions an organized e-book program in which the university would work to curb costs by negotiating with publishers. With a student body of more than 42,000, U-M's size can wield significant negotiating power.
"Piggy-backing" off success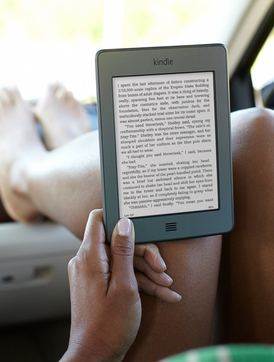 AnnArbor.com file photo
A similar model will be instituted this semester at Indiana University, which has been running e-book pilot programs since 2009.
In many of its courses, Indiana is requiring students to buy e-books. By mandating the e-book purchase, the school is able to negotiate low prices with book publishers by guaranteeing a high number of purchases.
Among the publishers partnering with Indiana is McGraw-Hill Higher Education, a mammoth force in the textbook industry. A McGraw-Hill official told the Chronicle of Higher Education last year that Indiana received a 20 percent discount off the publisher's usual e-book prices.
In an interview, Nik Osborne, chief of staff for Indiana's Office of the Vice President for Information Technology and facilitator of the school's e-book project, said e-books sold through the school are on average 50 percent cheaper than if students purchased them on their own.
Course fees, which include the book price, he said, range from $15 to $70.
And unlike most electronic textbooks, which are "going to go poof 180 days" after purchase, Osborne says students retain access to Indiana-issued e-books until they graduate, a provision negotiated by Indiana last year.
Courant says U-M is "piggy-backing off" Indiana's e-book model. Like Indiana, U-M doesn't plan to force professors to chose e-books over printed books, but instead plans to encourage them by stressing the benefits of a switch.
In August, Indiana released a report summarizing the two-year pilot program. It followed 1,700 students in 22 different courses.
The report stated that 60 percent of students on Indiana's eight campuses noted preference for e-books over traditional textbooks. The report did note a decline in a preference for e-books after the school began instituting a course fee for the books in Spring 2011.
During the two-year period, the school found that skeptical students adapted to e-books after repeated use. For example, a student using an e-book for the second time was 11 percent more likely to embrace electronic textbooks over traditional versions.
Kellie Woodhouse covers higher education for AnnArbor.com. Reach her at kelliewoodhouse@annarbor.com or 734-623-4602 and follow her on twitter.