Posted on
Tue, Oct 2, 2012 : 5:58 a.m.
Humane society adopting out horses seized at boarding facility in cruelty investigation
By Cindy Heflin
For the first time in memory, the Humane Society of Huron Valley is adopting out horses seized in a cruelty investigation.
The three horses were seized from a Salem Township boarding facility in July, and cruelty investigators are now seeking charges against their former owners, said Matt Schaecher, HSHV director of animal cruelty investigation and rescue.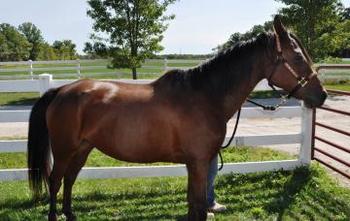 Humane Society of Huron Valley photo
The animals were malnourished and underweight, Schaecher said. Their owners surrendered them to the humane society.
Investigators seized the animals in July from the Double Diamond boarding facility on Seven Mile Road near Currie Road in Salem Township. It's the same facility where 18 horses were seized in December.
The facility provides space for horse owners to rent, and owners care for their own animals there. That's why the Humane Society is seeking charges against the animal owners rather than the facility.
Schaecher said the organization is seeing more cases of horse neglect as this summer's drought has doubled the price of hay from $4 to $5 per bale to about $9 or $10 per bale.
Schaecher said the humane society, founded in 1896, has no records showing that it has ever adopted out a horse.
The horses up for adoption include an 11-year-old purebred quarter horse named Queenie, a 12-year-old crossbred mare named Sugar, and a 10-year-old thoroughbred gelding named Turner. For more information about the adoptable animals, visit the Humane Society's website.
Cindy Heflin is associate news director at AnnArbor.com. Contact her at 734-623-2572 or cindyheflin@annarbor.com or follow her on Twitter.