Posted on
Wed, Jun 26, 2013 : 4:36 p.m.
At-capacity Humane Society of Huron Valley offering discounted adoptions
By Amy Biolchini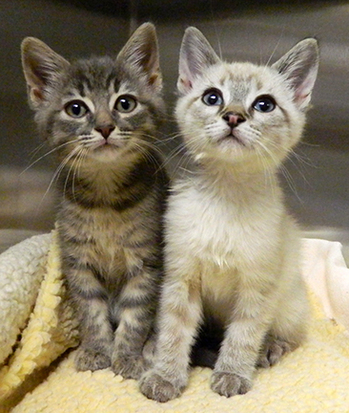 Courtesy of HSHV
Kennels at the
Humane Society of Huron Valley
are at maximum capacity this month with about
300 dogs and cats available for adoption
, officials from the organization said.
In response, the shelter is offering discounted adoptions until further notice.
At the Humane Society's shelter at 3100 Cherry Hill Road in Superior Township, all 85 of their dog kennels are full, as well as about 15 makeshift kennels that have been assembled in other parts of the facility, said Deb Kern, marketing director for the organization.
All of the 175 cat kennels have been filled as well, Kern said, and about 25 cats are living in portable cages situated in the shelter's hallway.
An additional 200 dogs and cats in need of homes are being housed in foster homes, Kern said. Many of those animals are not yet ready for adoption.
The Humane Society's capacity is an issue each spring during what Kern calls "kitten season." This year, kitten season occurred later in the spring.
"This is our busiest time of year," Kern said.
The Humane Society is admitting between 20 to 25 kittens into the shelter every day. Some young kittens available for adoption may not yet be featured on the Humane Society's website of adoptable animals.
For those that do want to adopt a kitten, Kern recommended visiting the Humane Society to see the selection.
"It's rare that we adopt more animals out than we take in (every day)," Kern said. "Last year, we had four days in which we adopted out more (animals) than we took in."
Once a month, the Humane Society takes in a delivery of puppies in its "Rescue Waggin'" from animal shelters in southern states that have too many animals. Kern said the puppies are in high demand and typically are all adopted within two days.
For a limited time, the Humane Society is offering the following adoption discounts:
Adopt a kitten, get a second kitten free; kitten adoptions are $100
$25 off the $65 adoption fee of an adult cat (more than 7 months old)
$50 the adoption fee of an adult dog (more than 7 months old); fees vary by size from $150 to $250
People more than 62 years old can adopt an animal that's at least 8 years old for free, or receive an additional $20 discount off of the adoption of a younger animal
All animals undergo a health screening, a behavior test, are spayed or neutered, receive a microchip for identification and are vaccinated prior to adoption.
"One kitten is actually more work than two," Kern said. "When there's two they can entertain each other."
Kern said discounting adoptions can be an incentive for some people to visit the Humane Society, but it doesn't change the screening process prospective adopters undergo.
The HVHS has an 86 percent save-rate.
The organization only euthanizes animals that are behaviorally or medically not treatable, Kern said.
Kern said the Humane Society has not had to employ euthanasia as a means of population control for the seven years she's worked for the organization — to which she credits the attention staff gives to the shelter's occupancy levels.
Amy Biolchini covers Washtenaw County, health and environmental issues for AnnArbor.com. Reach her at (734) 623-2552, amybiolchini@annarbor.com or on Twitter.