Posted on
Tue, Mar 15, 2011 : 11:22 a.m.
Humane Society offers reward for information leading to arrest, conviction of person who assaulted bound dogs with hatchet
By Heather Lockwood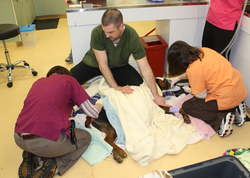 Photo courtesy of the Humane Society of Huron Valley
Two dogs were euthanized after they went missing and were later found with severe injuries inflicted with a hatchet while they were bound, according to a Humane Society of Huron Valley news release.
The Humane Society of Huron Valley is offering a $500 reward for information leading to the arrest and conviction of whoever is responsible for the assaults against the dogs — a female rottweiler and a male shepherd mix.
The dogs, each with different owners, had been playing outside near their Sylvan Township homes when they went missing March 9, said Matt Schaecher, supervisor of cruelty and rescue at the Humane Society of Huron Valley. The dogs were found later that day in the area of Garvey and Pierce roads — the shepherd mix about 8:30 a.m. and the rottweiler about 3 p.m. — both severely injured, Schaecher said.
Schaecher said a motorist noticed one of the dogs lying near the road while driving past the area in the morning and called the Washtenaw County Sheriff's Office and that same person noticed the second dog lying in a field not far from the road later that day and called to report that as well.
Schaecher said the dogs were euthanized shortly after arriving at the humane society.
"Our vets worked on them and tried to save them, but their injuries were too severe," he said.
The dogs were then sent to Michigan State University, where necropsy results showed the wounds had been intentionally inflicted with a hatchet while the dogs were bound, according to the release.
Schaecher would not say how many wounds the dogs suffered. He said he had never heard of an animal cruelty case of this nature.
"This is a very heinous case of animal cruelty, and we want to make sure that the community is aware that dogs running loose may be in extra danger. We have no reasonable explanation for what happened to these dogs. For their sake, and that of the safety of the community, we will do everything in our power to find this person and bring them to justice," Schaecher said in a news release.
Officials with the HSHV say animal cruelty is a daily occurrence.
"While this is a particularly upsetting case, animal cruelty is a daily occurrence. Dog fighting, abuse and torture of innocent animals, animal neglect and abandonment is, in part, what keeps us in business," executive director Tanya Hilgendorf said in the release. "Most people love and treat their pets like members of the family. But there are those who see animals as objects without feeling and others with violent tendencies who view animals as the perfect voiceless victims." Anyone with information related to this case can call the HSHV anonymous tip line, (734) 661-3551.
• Click here for information on how to stop animal cruelty.
Heather Lockwood is a reporter for AnnArbor.com. Reach her at heatherlockwood@annarbor.com or follow her on Twitter.