Posted on
Thu, Jan 17, 2013 : 5 p.m.
Humane society seizes 45 dogs, 20 cats in two animal hoarding cases
By Amy Biolchini
Editor's note: This story was updated at 6 p.m. with additional information from Matt Schaecher.
Animal cruelty investigators from the Humane Society of Huron Valley seized 45 dogs and 20 cats in two separate hoarding cases recently in Washtenaw County.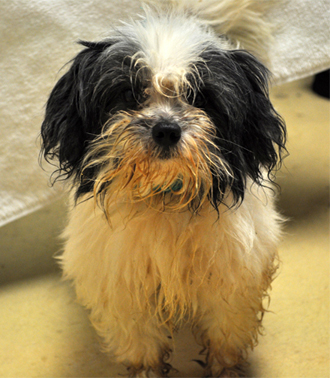 Courtesy HSHV
In both cases, the animals had been neglected. The dogs and cats are in fairly good health, according to HSHV staff.
Two cats and 45 dogs were taken from a Milan-area residence last week, said Matt Schaecher, cruelty and rescue supervisor for HSHV.
The owner of the animals, an elderly woman, had health issues and could no longer live on her own.
Schaecher said the woman surrendered the animals to the humane society and all 45 dogs and two cats from the case will soon be up for adoption. HSHV will not be pursuing cruelty charges in the case.
The dogs were well-fed, though some were found to have heart worm, Schaecher said.
"She tried to do her best to care for them," Schaecher said. "Unfortunately (hoarding cases) are not uncommon."
Schaecher said cases of animal hoarding typically start when people take in stray unsterilized animals, the animals breed and their offspring continue to multiply.
"They're usually unwilling to get rid of anything," Schaecher said of animal hoarders.
In a separate case, the animal cruelty investigators seized 18 cats last week from an Ypsilanti Township residence after receiving a complaint.
The HSHV will be pursuing animal cruelty charges in the neglect case and Schaecher could not comment further on the living conditions for the cats.
"With the economy the way it is, we're seeing an increase in cruelty cases with lack of food; people unable to feed and care for their animals," Schaecher said.
With the sharp influx of animals over a short period of time, the humane society is in need of willing individuals to adopt the animals.
"Hoarder cases like these put a serious strain on our already full shelter," according to a statement by Tanya Hilgendorf, CEO of HSHV.
The dogs are mostly small breeds: Chihuahua, Pomeranian and Terrier mixes.
"These are wonderful dogs, and are generally healthy, but due to neglectful conditions, most did not get quite the right amount of socialization and training. Many are still very unsure of themselves and have not had much experience in the world," according to a statement by Renee Bell, adoptions manager for the HSHV. "Most will do best in a home with another dog and, unfortunately, are not ideal for families with small kids."
The humane society is discounting the small dog adoption fee for dogs from these cases by more than $100.
All animals will be spayed/neutered, vaccinated, temperament tested, health checked and treated for illnesses before being put up for adoption. They'll also receive a microchip for identification purposes.
Amy Biolchini covers Washtenaw County, health and environmental issues for AnnArbor.com. Reach her at (734) 623-2552, amybiolchini@annarbor.com or on Twitter.