Posted on
Mon, Sep 24, 2012 : 5:59 a.m.
Hundreds of thousands flock to free University of Michigan classes offered on web-based Coursera platform
By Kellie Woodhouse
Engineering and computer science professor J. Alex Halderman teaches one of the largest lectures offered by the University of Michigan.
There are well over 500 students enrolled, and they don't all sit in a cavernous lecture hall.
Instead, 15,000 students log on to a Web-based platform to participate in Handerman's "Securing Digital Democracy" class.
"It's mind-boggling," he said.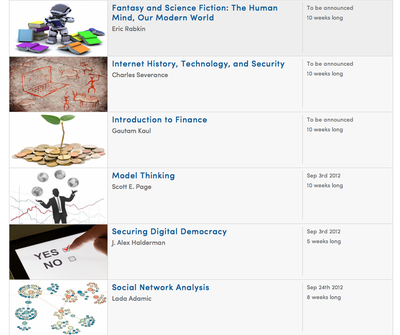 The class is part of U-M's growing Coursera portfolio. Corusera is an online platform that allows universities, including Stanford and Princeton, to offer free courses online to anyone.
Other U-M Coursera courses have attracted 90,000 and 133,000 students, according to Martha Pollack, U-M vice provost.
To put that in perspective, 133,000 students is more than three times the total graduate and undergraduate enrollment at U-M.
Coursera reported in August that more than 1 million people from 196 countries have enrolled in at least one online course.
Coursera and programs like it, including edX, launched earlier this year by Harvard and the Massachusetts Institute of Technology, are quickly changing the landscape of higher education.
"There really has been a tsunami, a sea change, in what's going on," Pollack told the Board of Regents during a Thursday meeting.
The Ann Arbor-based university launched its first Coursera class, Model Thinking, last Spring and had more than 50,000 students sign up. There currently are three free U-M Coursera courses being offered online, with four more to begin in the near future.
Topics range from finance to Internet history and class assignments include anything from online class discussion to quizzes to end-of-term papers.
"It's extremely different from teaching students face-to-face," said Halderman, whose digital democracy class began on Sept. 3. "It's so much about building a community around the material and around the class. Students don't just sit there and watch online material, they also have conversations with each other and with me."
Students don't get credit for completing the course and aren't penalized if they drop out prematurely. Typically, the number of students who complete a course is far less than the number of original registrants.
Teaching the course is work-intenstive, Halderman explained. Handerman prepares lectures, initiates discussions, creates assignments and holds weekly office hours using a video chat function. Simply put, teaching thousands of students a complex topic isn't easy.
"It's been a learning curve," he said. "It's definitely more work than a normal course."
But there is reward.
Using the platform comes with a certain amount of prestige and the courses are a good way to connect with prospective students and alumni. Moreover, Pollack said the courses could possibly be monetized by offering completion certificates.
The Coursera platform also can be used to supplement paid classes at the university.
"Why are we doing this? This is a question the regents have asked me," Pollack said. "We want to lead in shaping the future of online education. ...We are a public university and it's consistent with our mission to share our expertise."
U-M was one of the four original universities to use Coursera. Less than a year later, there are now 33 colleges using the platform.
"I am absolutely sure that technology like this is going to have a big impact on how these universities function," said Halderman, whose Coursera class is still open for new registrants. "What that impact is going to be remains to be seen."
Kellie Woodhouse covers higher education for AnnArbor.com. Reach her at kelliewoodhouse@annarbor.com or 734-623-4602 and follow her on twitter.