Posted on
Fri, Nov 11, 2011 : 7:17 a.m.
Administrators hear parents' ideas for cutting $14M from Ann Arbor schools budget
By Danny Shaw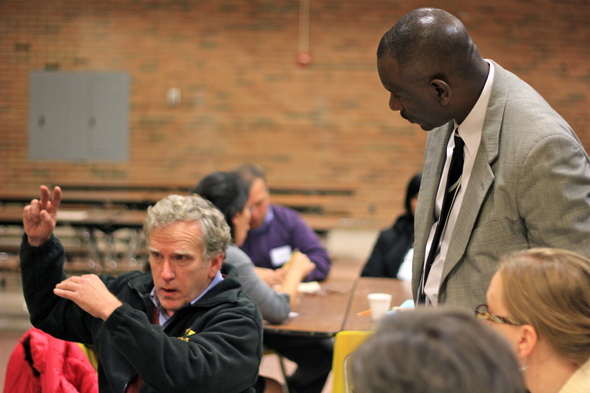 Danny Shaw | AnnArbor.com
Merging schools, cutting out substitutes, or having parents provide more classroom supplies were some of the suggestions made Thursday at an Ann Arbor Public Schools budget forum.
Nearly 60 people attended the open forum at Huron High School to help AAPS administrators brainstorm money-saving ideas to help trim $14 million the district's budget - a tactic Superintendent Patricia Green said will be extremely helpful in the coming months.
"We haven't started developing the budget for next year yet, so we have a great opportunity to gather input from the public," Green said. "We want to know what the parents think, what the staff thinks, about potential cuts and brainstorm with them."
Green said the 2012-2013 budget deadline comes in June, and thinks "the earlier for input, the better."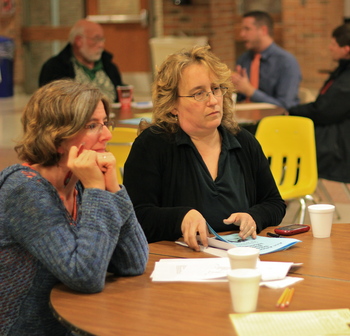 Danny Shaw | AnnArbor.com
Seated at tables throughout the cafeteria, parents and AAPS members discussed questions like "What could we do differently to save money?" and "What suggestions do you have for revenue enhancements?"
Ideas discussed by the groups included decreasing energy consumption throughout school facilities, trimming administration salaries, and increase participation with AAPS alumni to help boost enrollment.
While the goal is to cut $14 million from the current $183 million budget, Ann Arbor Open School parent Julie Roth thinks it's unattainable.
"There's a general feeling that there aren't anymore ideas for cutting big money, that the big money has been cut over the last several years," Roth said. "The ideas that are coming forth are nickel- and dime-ing towards the $14 million deficit, but won't reach it."
Roth said she thinks more cuts will cause parents to enroll their children in charter and private schools and lead to lower-quality education.
"I cannot even imagine what another $14 million out of our school system will look like," she said. "I can't even envision it."
Ruth Kraut, also an Ann Arbor Open parent, shared her idea of reallocating the time of principals in certain schools.
"When I look at the principal ratio, I wonder if some of the assistant principals could be pulled," she said, "or maybe spend half their time teaching. That could help us save on substitutes, and possibly other teaching costs."
While specifics about the 2012-2013 budget won't be known until early next year, Robert Allen, deputy superintendent, said he can only plan based off the previous budget.
"We're not sure what might increase or decrease at this point," Allen explained to forum attendees. "But we are expecting it to stay relatively close to the current budget."
Green said she encourages AAPS parents, students and staff to join the brainstorming sessions, which will continue Monday, Nov. 14, at Pioneer High School's Cafeteria Annex beginning at 6:30 p.m.
"I think people are feeling the pain of the cuts, that's what stuck out in my mind," said Green. "I felt that people were open and honest; they helped us generate some great ideas and it's something that will impact how we manage the upcoming budget."