Posted on
Sat, Nov 17, 2012 : 1:30 p.m.
Huron High School students secure 1,200 recycling bins for classrooms at Ann Arbor schools
By Danielle Arndt
Twelve hundred recycling bins were delivered to the Ann Arbor Public Schools this week thanks to the Huron High School Green Team.
The Green Team was formed in the 2011-12 academic year and consists of students Jungsoo Chang, Hani Elhor, Jiaao Hou, Sumeyye Korkaya and Gabby Steinl.
"We wanted to not only have a strong recycling program at our high school, but also to help recycling get a boost at all schools," Hou said.
In the spring, the students contacted the city of Ann Arbor and the nonprofit group Recycle Ann Arbor and expressed a desire to see recycling bins in every classroom at AAPS, said Kendra Pyle, senior recycling coordinator for Recycle Ann Arbor.
She said the city, which picks up recycling for AAPS, chipped in for half the cost of the boxes and Recycle Ann Arbor donated $500 toward the district's cost in support of the students.
The 33-gallon cardboard recycling boxes cost $3 apiece. They have a special keyhole-shaped lid that was designed for collecting pop bottles, cans and paper, Pyle said.
According to a news release about the effort, the last district-wide distribution of recycling collection boxes at Ann Arbor happened more than a decade ago. Most of the original boxes are either battered or have been lost, making it hard for all of the classrooms to keep recyclables out of the trash.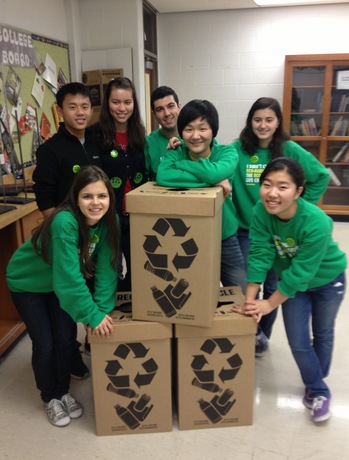 Courtesy of Recycle Ann Arbor
The Green Team students hope having well-marked collection boxes and posters in every classroom will make it easier for students and teachers to recycle.
In addition to placing the new recycling bins in every classroom, the Green Team members started a can and bottle drive in the cafeteria, Pyle said. Their goal is to collect 2,000 cans. As of Wednesday, they had collected 611 cans.
"For every 500 cans they collect, the school principal or one of the vice principals will do something embarrassing for the whole student body," Pyle said.
When the group reached 500 cans, Assistant Principal Marcus Edmondson wore a Beyonce wig all day. At 1,000 cans, Assistant Principal Jason Skiba has pledged to take an AP Chemistry test and to share his score with the school. At 1,500 cans, Principal Arthur Williams said he will write and perform a recycling rap.
And for the grand finale, if the school reaches its 2,000-can goal, all of the principals will participate in Huron's Multi-Cultural Show on Dec. 21 with a surprise performance.
Pyle said the recycling boxes were dropped at the Balas Administration Building on Recycle America Day, which was Wednesday. They will be distributed throughout all of the buildings the week of Nov. 26.
Brad Mellor, director of operations for AAPS, sent an announcement to the district's faculty and staff informing them of the recycling effort and said school custodians will cover the topic of recycling as part of their in-service training on Nov. 21.
Danielle Arndt covers K-12 education for AnnArbor.com. Follow her on Twitter @DanielleArndt or email her at daniellearndt@annarbor.com.