Posted on
Thu, Nov 29, 2012 : 1 p.m.
Huron High School student group to host Pizza Showdown to benefit children in Kenya
By Danielle Arndt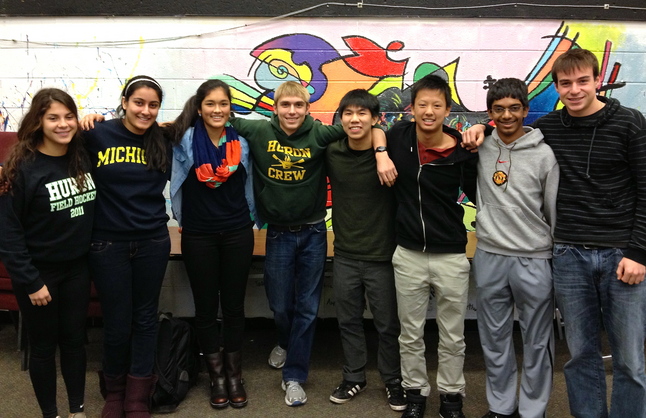 Courtesy photo
A group of
Huron High School
students have organized a Friday night event that is sure to leave attendees feeling full and satisfied in more ways than one, with all-you-can-eat pizza and supporting a good cause.
From 6 to 9 p.m. Friday, more than 100 pizzas will be delivered to the Huron cafeteria for a Pizza Showdown — an event that combines local business promotion, community camaraderie and good food together with helping sick and needy children in Kenya.
A new Huron after-school club called Youth Impact is organizing the showdown. It costs $5 for students and $10 for adults to attend.
The money generated will be given to the Take Heart Association's Hearts for Kids project. The Take Heart Association (THAP) strives to provide life-saving surgeries, support, resources and hope to families of underprivileged children in Kenya and East Africa who suffer from heart defects and disease, THAP's website says.
Members of Youth Impact solicited local pizza parlors to donate pizzas to the cause. Club founder Andy Hsiao said about 10 Ann Arbor restaurants have pledged to prepare 10 pizzas each.
"We will have the attendees taste and rate their favorite company," Hsiao said. "That way people can have all-you-can-eat pizza, we get the entry fees and the companies get advertising."
The group is using a text-to-vote application that will allow attendees to text in their votes after tasting the various pizzas. Hsiao said he can pull up the votes live from the event using a website, so the results will be projected on a wall in the cafeteria as people select their favorite local pizza parlor and flavor.
The pizza taste testing is Station 1, he said. There are two other stations. Station 2 is a small, informal gallery of photos of children who have received heart surgeries thanks to THAP, "so people can walk through and see exactly what they are fundraising for," Hsiao said.
Station 3 will be a carnival game for kids attending the event.
Hsiao, a high school junior, launched the new after-school club, Youth Impact, this fall.
"Our goal is to increase knowledge, expand awareness and financially assist people, groups and organizations that provide aid both domestically and internationally," Hsiao said.
Hsiao is no stranger to raising money for international causes. In June 2011, Hsiao organized a T-shirt fundraiser to aid the Japanese, after an earthquake and the subsequent tsunami devastated the country.
Hsiao was a freshman then and a member of Huron's Interact Club, the student division of the Rotary Club of Ann Arbor. His "Fight on, Japan!" T-shirts generated nearly $3,000 for the Rotary Japan and Pacific Islands 2011 Disaster Recovery Fund.
While Hsiao remains a member of the Interact Club, he said Interact is more volunteer-based. Hsiao prefers to be behind the wheel, organizing the effort.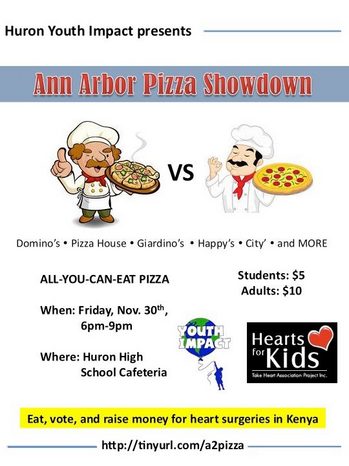 He said in Interact, the students volunteer their time to assist in other people's events and fundraisers. In Youth Impact, 90 percent of the work is done by the approximately 50 high school student members, he said.
"We start and organize the events, make the signs and also serve as the volunteers. ... Not only is it a lot of fun, but I think it will help a lot of members later on in life. The skills of planning and advertising are very useful in whatever field you go into," Hsiao said.
Also as part of Friday's evening of activities, the Huron students have arranged for Dr. Anne James Boyd, a local pediatric cardiologist, to attend and give a short presentation about THAP, as well as congenital heart defects and disease in children. Boyd serves on the board of directors for the organization and will tell a little about her medical mission trip to Kijabe, Kenya, in 2006 that got her involved in THAP.
According to its website, THAP has helped 128 children receive heart surgeries since it was founded in 1992. Each surgery costs about $100,000 in Kenyan dollars, the equivalent of $1,000 to $1,500 in U.S. dollars, Hsiao said.
After Boyd's discussion, Hsiao said he and other Youth Impact members also will deliver a short presentation to help the community to get to know their group better and to share more information about their mission and fundraising efforts.
In addition to the Pizza Showdown, Youth Impact started a Jars of Change campaign to benefit THAP as well. It also is organizing a February talent competition dubbed The Youth Factor.
For more information about Youth Impact, visit the group's Facebook page.
Danielle Arndt covers K-12 education for AnnArbor.com. Follow her on Twitter @DanielleArndt or email her at daniellearndt@annarbor.com.