Unique triathlon to kick off Huron River Day Celebration on Sunday
Posted on Sat, Jul 14, 2012 : 5:56 a.m.
Ever wanted to do a triathlon, but the dreaded swim kept you from it?
Head to the Huron River on Sunday, there's a triathlon that might be perfect for you.
Replacing the swimming portion of the race - universally, the most dreaded part of a triathlon - will be a 3.5 mile kayak trip down the Huron River and through the new Argo Cascades at the "Tri the Huron" triathlon.
"There's no swimming involved…unless you tip your kayak," joked Peter Allen, who came up with the idea of including a unique triathlon as part of the Huron River Day Celebration while sitting outside of his office at Peter Allen & Associates. Allen's goal was to connect the new Argo Cascades to Gallup Park and get "kids to appreciate the river."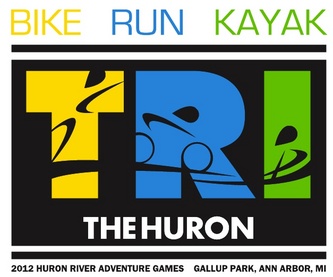 Courtesy of Peter Allen
"I figured putting three sports together would get a lot of people excited," Allen said.
Several organizers agreed, and a full-on fundraiser resulted. Champions for Charity became involved, as well as key sponsors DTE and Toyota, with proceeds from the event to benefit the Ann Arbor Public Schools Educational Foundation, Huron River Watershed Council, the Ann Arbor Parks and Recreation and efforts to finance public art on Main Street near M-14.
"We think, over time, this might become quite an event," Allen said.
As of Friday morning, 68 people had registered, and Allen hoped to have near 100 by race day.
Online registration ended at 11:30 a.m. Friday, but participants can register the day of the race at Gallup Park from 7-9 a.m., which also is when and where participants are to pick up race packets.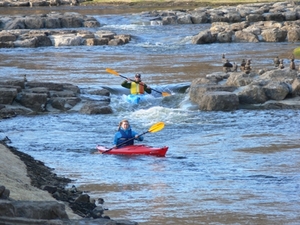 Courtesy of city of Ann Arbor
Participants can begin as soon as they arrive as there will not be a timed start to race.
"We thought about having a competitive heat, but for right now we're kind of doing this as a dress rehearsal," Allen said. "Adding some more competitive elements might be something we look into for future events."
Contact Pete Cunningham at petercunningham@annarbor.com or by phone at 734-623-2561. Follow him on Twitter @petcunningham.