Posted on
Sat, Jul 23, 2011 : 2:35 p.m.
Huron River Watershed Council to tackle E. coli pollution in Scio Township's Honey Creek
By Juliana Keeping
The Huron River Watershed Council is turning its attention to cleaning up Honey Creek, which is contaminated with levels of E. coli much higher than what the government considers safe for human contact, tests have shown.
The Department of Environmental Quality awarded the council a two-year, $74,497 grant to improve and protect the stream's water quality, it announced Thursday.
The creek runs through Scio Township, emptying into the Huron River near the intersection of West Huron River Drive and North Wagner Road.
Honey Creek might be most well known for its role in clean-up efforts involving dioxane, an industrial solvent and probable carcinogen that was ejected into fields and unlined lagoons from the mid-1960s to the mid-'80s by Gelman Sciences. The practice led to groundwater contamination, which was discovered in the '80s. Pall Life Sciences bought Gelman in 1997 and inherited the responsibility to clean up the pollution. It currently discharges treated wastewater from an ongoing groundwater remediation effort into Honey Creek.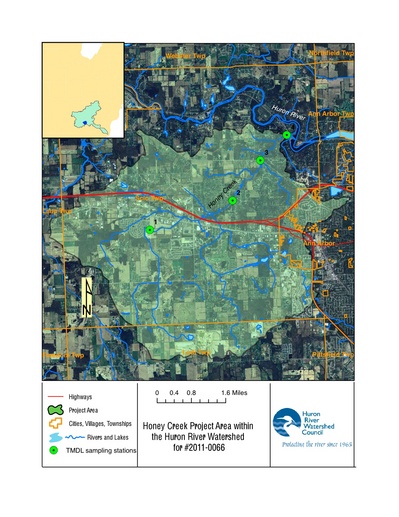 Huron River Watershed Council image
Monitoring of the creek since 2006 by the watershed council and the state consistently showed unsafe contamination levels of E. coli, said Ric Lawson, a council watershed planner.
Citizens groups stand guard over the ongoing groundwater cleanup effort, but E. coli in the relatively small creek hasn't captured the public's attention.
"Honey is interesting because it's not as developed as Ann Arbor and the more urbanized areas as you move downriver, so it was surprising to find E. coli there as high as it was," Lawson said. "The reason why people should care: It is a health concern. If they do interact with it, that would be a problem. It also flushes into the Huron River, where people engage in fishing and water activity. "
The bacteria could be spread from the creek to people or animals through the ingestion of tiny amounts of human or animal feces in the water.
Certain strains of E. coli are harmless, while others can make people sick with intestinal and other illnesses, according to the Centers for Disease Control and Prevention. Some E. coli infections can be life-threatening.
A sample that yields over 300 colonies of bacteria per 100 mL of water is not safe for human contact under certain state and federal standards for recreational water quality. Samples of creek water have yielded 40 times more than that measure, Lawson said, although the HRWC's average sample is closer to three times the government's standard for safe E. coli levels.
The council is an Ann Arbor-based nonprofit that protects the Huron River, as well as wetlands, flood plains and creeks that flow into it, and seeks to improve pollution and economies in cities along the river.
The purpose of the grant is to locate the source or sources of pollution and then begin work with the community to mitigate the problem. The initiative will entail a partnership with government entities including Scio Township and the Washtenaw County Water Resource Commissioner Janis Bobrin, Lawson said, and planning will start in the fall.
The likely sources, Lawson said, could be horse farms or two nearby subdivisions, or potentially a cross connection or an illegal connection of a sanitary sewer to the storm drain. Paved property creates runoff containing animal waste into the creek following rainstorms, which can spike E. coli levels.
Once the HRWC sorts out monitoring and lab details, it will begin to take water samples in the spring and summer of 2012, Lawson said. Tests will determine whether the bacteria is from humans, animals or a combination of both and help pinpoint the source of the pollution.
A future plan to reduce E. coli in Honey Creek will involve Scio Township residents, Lawson said.
"There might be pet sources, or horse farms out there, that may not be doing sufficient job to control runoff — we don't know what the sources are yet."
For updates, interested residents can follow progress on the HRWC website, Lawson said. There will be public meetings scheduled for interested parties to attend in 2012.
Download a pdfof the HRWC's project area for a larger version of the above image.
Juliana Keeping covers general assignment and health and the environment for AnnArbor.com. Reach her at julianakeeping@annarbor.com or 734-623-2528. Follow Juliana Keeping on Twitter