Huron Village bees: Beekeeper removed swarm on Monday
Posted on Tue, May 15, 2012 : 6 p.m.
Previous story: Swarm of bees stuns shoppers in Ann Arbor's Huron Village
Shoppers were surprised to see a swarm of bees descend upon Huron Village in Ann Arbor on Saturday - and so was shopping center management.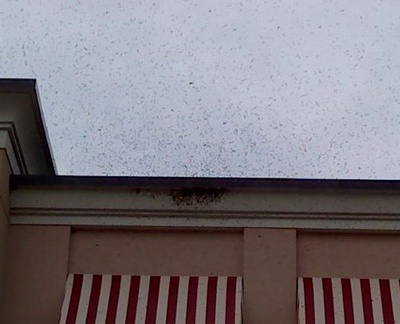 Roger Falles | For AnnArbor.com
"It was a first for me," said Thomas Gritter, commercial property manager for McKinley Inc.
The swarm swept over the parking lot Saturday afternoon, then settled into a "ball" above the AT&T store, raising curiosity and concern among shoppers.
The situation raised questions for Gritter and his staff, too, since they had to figure out what to do with the bees, which he was told totaled about 1,000.
"Occasionally the 'ball' would swoop down and upset customers," he said.
McKinley ended up having a beekeeper come to the property on Washtenaw near Huron Parkway to take them away, Gritter said.
"We didn't exterminate them," he said.
The beekeeper was from the area, Gritter said, and identified the honeybees as worth saving for his honey production. His name was not available on Tuesday.
The man went to the roof on Monday and used a device like a net to grab many of the bees - including the queen. That made it easier to move the rest of them, Gritter said.
"Once you get the queen, the rest will follow," he said.
Gritter said he was told that the swarm probably would have stayed at the building for a few weeks before moving on.
But that didn't make shoppers or merchants comfortable, he added.
Today, only a few of the bees remain: "There are a few stragglers, but eventually they'll move on."