Posted on
Tue, Oct 30, 2012 : 7:40 a.m.
Hurricane Sandy impact: High winds, power outages reported in Ann Arbor area
By Cindy Heflin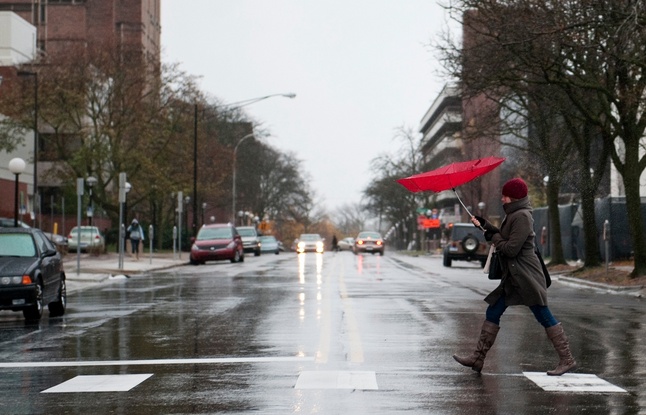 Daniel Brenner | AnnArbor.com
Editor's note: This article was updated with information from the cities of Ann Arbor and Ypsilanti at 10:40 a.m.
Hurricane Sandy, while dealing a cruel and deadly blow to cities in the Northeast, extended her nasty reach into southeast Michigan, stirring up howling winds that knocked out power, downed tree limbs and closed some schools.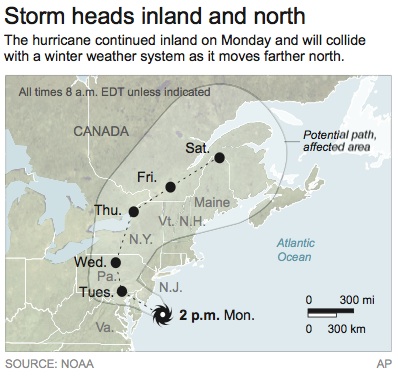 AP graphic
Workers in the City of Ann Arbor's Forestry Department reported being busy in the early morning hours clearing tree limbs from sidewalks and roadways.
In Ypsilanti, city employees were called in to work overnight to remove a large tree limb that fell at 416 Pearl Street.
About 3,000 customers of DTE Energy were without power in Washtenaw County, a fraction of the 56,000 total in southeast Michigan, said spokesman Scott Simons.
The bulk of the outages in Washtenaw County appeared to be in Scio Township, where about 1,500 customers were without power and north of Chelsea, were another 1,100 were powerless.
It could be a while before the power comes back. The DTE power outage map included a restoration estimate of Wednesday for the Chelsea-area outage, but Simons said he wasn't sure that was accurate.
"The winds are continuing to blow, so the numbers are continuing to go up," he said.
A wind advisory is in effect until 1 p.m. Tuesday. Forecasters warn that north winds of 15 to 25 mph will be possible, causing gusts of 35 to 45 mph through the morning.
Drivers heading onto east-west roads are urged to take special caution, according to the advisory.
Washtenaw County Road Commission crews had been out all night removing downed limbs and trees, Jim Harmon, director of operations said Tuesday morning. Reports of such damage were too numerous to mention, a dispatcher with the Washtenaw County Sheriff's Office said just before 7:30 a.m.
Sandy is also throwing an icy mix of precipitation our way. The National Weather Service said the Ann Arbor area would have snow, possibly mixed with rain, Tuesday morning. It will change to all rain after noon.
The weather is prompting school closings: High Point School on South Wagner Road and the Teaching and Learning Center on the Washtenaw Intermediate School District campus is closed today, officials said. All other WISD programs will operate as scheduled.
Other closings in Washtenaw County included Whitmore Lake Elementary School and Honey Creek Community School.
As Sandy stormed ashore in the Northeast, at least 17 people died and more than 7 million people were without power, the Associated Press reported. New York and New Jersey were hit particularly hard. Damage included widespread flooding. President Barack Obama declared a major disaster in New York City and Long Island, AP reported.
Along the Lake Michigan shoreline, wind gusts of more than 40 mph were recorded Monday night as a gale warning continues through Wednesday from Saint Joseph to Manistee.
In Chicago, officials are warning residents to stay away from the Lake Michigan shore as the city prepares for high winds and waves, AP reported. Officials were expecting winds to reach 50 to 60 mph on Tuesday, with lake waves exceeding 24 feet.
The National Weather Service issued a lakeshore flood warning from 1 a.m. Tuesday through 4 p.m. Wednesday.
Area fire departments reported being surprised at how little damage had been done overnight, despite the high winds. Firefighters in Dexter, Ypsilanti, Ypsilanti Township, Scio Township and Ann Arbor Township all reported responding to downed power lines and some tree limbs, but nothing more serious.
Police in the area also reported not responding to any major incidents overnight or Tuesday morning.