Posted on
Mon, Mar 29, 2010 : 8:57 p.m.
Hutaree member sought by federal agents arrested in Hillsdale County
By Amalie Nash
The final indicted Hutaree member sought by federal authorities was arrested a short time ago in Hillsdale County, the FBI announced.
Joshua Stone was taken into custody, FBI spokeswoman Sandra Berchtold said in a statement.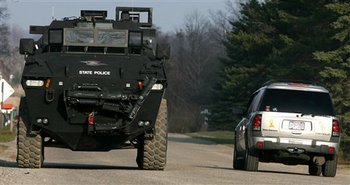 Madalyn Ruggiero | The Associated Press
Stone is one of nine accused Hutaree members targeted in federal raids over the weekend. The group members are accused of plotting to kill a law enforcement officer, and then attack other officers who attended the funeral.
Joshua Stone is the son of David Brian Stone, who is accused of being the leader of the Lenawee County-based group.
Joshua Stone surrendered about 8 p.m., said Andrew Arena, head of the FBI's field office in Detroit. Stone's friends and relatives had recorded messages, urging him to surrender, that the FBI played over loudspeakers outside the home before he and the others - including a small child - came out willingly, Arena said.
"We're guessing he's been in there at least a day," Arena said.
Arena said the other adults at the home were taken into custody and will be interviewed. Other details, including whether those in the house had weapons or were affiliated with Hutaree, weren't immediately released.
All those indicted are charged with seditious conspiracy, attempting to use weapons of mass destruction and two counts possessing a firearm during a crime of violence. Some face additional charges. If convicted, they could spend the rest of their lives in prison.
A detention hearing is set for Wednesday for those who made their initial appearance today. It's unclear when Joshua Stone will appear.
Also charged in the indictment are:
David Brian Stone (RD) of Clayton, Mich.
David Brian Stone Jr. (Junior) of Adrian (the son of David Brian Stone)
Tina Mae Stone of Clayton (the wife of David Brian Stone)
Joshua John Clough (Azzurlin) of Blissfield
Michael David Meeks (Mikey) of Manchester Township
Thomas William Piatek of Whiting, Ind.
Khristopher T. Sickles (Pale Horse) of Sandusky, Ohio
Jacob J. Ward (Jake) of Huron, Ohio
The indictment says Hutaree advocates violence against local, state and federal law enforcement. Since at least 2008, members have been meeting regularly and conducting military-style training in Lenawee County to prepare for "war with their enemy," the indictment says.
The Associated Press contributed to this report.