Posted on
Sun, Apr 14, 2013 : 5:35 p.m.
I-94 crash snarls traffic, injures at least 1
By Sven Gustafson
A horrific accident Sunday on Interstate 94 near Stone School Road in Ann Arbor injured at least one driver and caused traffic to back up for miles in each direction, authorities and eyewitnesses said.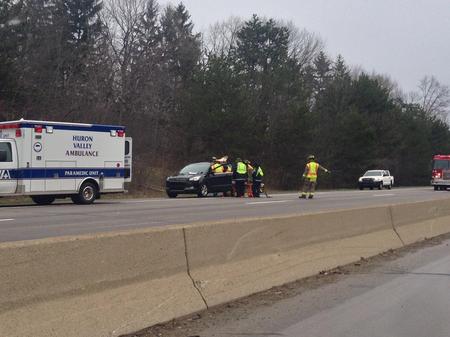 Daniel Brenner | AnnArbor.com
"The Ann Arbor Fire Department and Pittsfield Township Fire Department were both on the scene," AAFD Battalion Chief
Steven Lowe
said in a voicemail recording left for a reporter. "Both used tools and equipment from their trucks. One patient was extricated from her vehicle and transported (to the hospital). I believe two people were transported from the scene."
There was no word on the condition of any of the victims. The Michigan State Police, who were on the scene, could not be reached Sunday.
Ypsilanti resident Ally Norris was involved in a secondary collision as motorists slammed on the brakes after the main crash. The 9-1-1 call came in around 12:40 p.m., Lowe said.
Norris said she was traveling westbound to her job at Briarwood Mall at that time when she saw a pickup truck in the eastbound lanes lose what appeared to be its entire front wheel assembly. The truck's tires and wheels flew over the median and crashed into the windshield of a car driven by a woman.
A black sport-utility vehicle in front of Norris swerved to avoid the stricken vehicle when Norris said she was unable to stop in time and rear-ended the SUV.
Norris said several people stopped on the shoulder and got out of their vehicles to take stock of the scene. Witnesses told her the woman had been briefly knocked unconscious but was revived when another motorist knocked on her window and managed to get her phone from her to call for help.
Norris, whose own car had to be towed from the scene, said she watched firefighters cut off the roof of the woman's car to free her.
"She was pretty bloody," Norris said. "I didn't really want to look but I did see she looked pretty beat up."
AnnArbor.com photographer Daniel Brenner was taking the freeway from State Street en route to shoot photographs at Eastern Michigan University's spring football scrimmage around 1:30 p.m. when he got stuck in a massive traffic backup.
"It was stopped," he said. "It took me probably 5 minutes just to merge into traffic. It was bad."
Brenner said he saw at least six fire trucks, police cruisers and a pair of ambulances on the crash scene, which nearly completely shut off the westbound lanes.
Norris said authorities closed off nearly the entire freeway and were only letting westbound traffic pass on the shoulder.