Posted on
Sun, Feb 24, 2013 : 5:58 a.m.
Ann Arbor woman attends home and away U-M basketball games for 39 years
By bob horning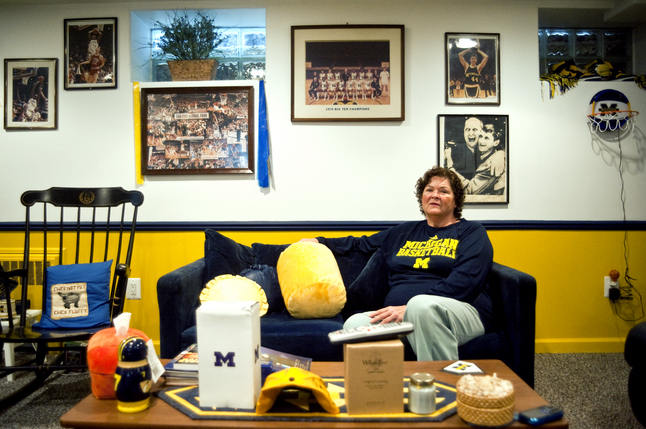 Joseph Tobianski | AnnArbor.com
I had heard about someone who attended every University of Michigan men's basketball game, home and away, for the past 39 years. It sounded extreme — unreal.
Who would do such a thing? There were some great teams during that time, true, but many that you wouldn't make the short trip to Crisler Arena to see, let alone drive to State College or West Lafayette or Iowa City.
Meet Dottie Day.
Even as a 5-year-old, basketball and schoolwork already were big in her life. She had to finish her homework (that is, coloring) before she could go with her family and extended family to high school basketball games or whatever sport was in season.
When she grew up and left her parent's dairy and crop farm in Clarklake, south of Jackson, to attend U-M in 1963, she was terrified of the big city. But she found a familiar environment in working the concessions booths for hockey and basketball at the Coliseum and Yost Field House. She always tried to position herself so she could catch glimpses of the game, or at least of the scoreboard.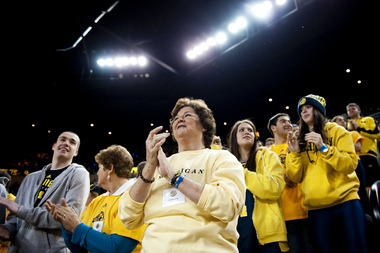 Daniel Brenner I AnnArbor.com
Before C.J. Kupec, the center on the freshman basketball team in 1971-72 came to campus and changed her life, Dottie had graduated and began working as a learning specialist at the U-M Department of Psychiatry with kids and teenagers with needs ranging from eating disorders to autism to major depression. She helped with their school work, the goal being to motivate them and increase their self esteem to the point that they knew they were capable of learning, and even enjoying it.
"I absolutely loved those kids," she said, "and the challenge of helping the most difficult succeed. It was wonderful when something clicked and they began to learn. They would tell me they didn't know it could be so easy." Dottie augmented her teaching degree with a masters in reading and one in special education. She said throughout 44 years there were only three youths she felt she couldn't reach. She retired in October 2012.
Meanwhile, Kupec had impressed Dottie with his basketball smarts and his all-around game. He eventually impressed others, too, and became an All-America. "When he is a senior, I am going to all of his games," she told herself. And she did.
"I saved my money and my vacation time in order to travel to away games," she said. "Then I did it again the next year. And the next year. I didn't plan it that way. It just happened."
She hasn't missed a game since, except for three in 1976 when her mother died, two in 1996 when her father died, and half of the 2007 season when she was "placed on the disabled list" for foot reconstruction. She tried to get the doctor to delay it until after the season, but no luck.
In the early days, when the athletic department finances were tighter, Dottie, and sometimes others, traveled on the team plane and bus as a way to supplement department funds. She got to know the coaches, including Johnny Orr, Jim Dutcher, Bill Frieder, and Brian Ellerbe, and she still talks often with Steve Fisher and Brian Dutcher.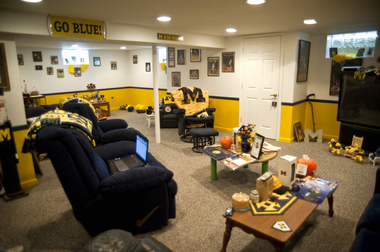 Joseph Tobianski | AnnArbor.com
During many of those years, games were on Thursday and Saturday, and both games would either be at home or on the road. Michigan didn't return to Ann Arbor between games, so there was more down time. Dottie participated in team backgammon tournaments and euchre games. She went to practice and shoot-arounds.
Back in Ann Arbor, many of the players had dinner at Dottie's, and she organized team bowling outings. At the end of the season, she was with them in the locker room as March Madness pairings were announced. And because she became part of the team, each year the coaches and seniors made sure the freshmen were introduced to her.
"That's what I miss the most," she said. "Yes, the transportation was convenient, but what I really, really miss is getting to know the kids better. Now, it's more like seeing them for a few minutes in a hotel lobby or after a game."
She does get a hug from each of the players just before the game, though,
In 1979, Frieder asked her to sit behind the players' bench at home games. You can still spot her there with her sister or a friend in the midst of the "maize rage." When everyone is jumping, look for the one who is at least jumping on the inside.
Dottie won't tell you who her favorites have been because they are all "my kids." But if you want to know what a former player is doing now, chances are she knows.
Don't expect her to talk statistics, though. That has never been her focus. "The kids are people, not numbers on a jersey or stats on a scoreboard," she said.
Asked if the players think she is crazy for doing what she does, she says, "I don't know. They may wonder why I do it. My friends are the ones who think I am loony - that is until I get them to go with me. Then they get it."
For Dottie, the reasons are simple. "I love - just love - the University of Michigan," she said. "I love the game of basketball, and I really love kids that age, anywhere from teens to mid-20s. They keep me young — it's fun for me.
"Besides, I enjoy competition and the psychological aspects of the game. I want to be the best at everything I do, and want my team to be the best. When they lose, I want to see if they will bounce back; and when they win, I want to see how they handle it."
Dottie's fun does require work, however. For example, drive time to Champaign for the Illinois game is six hours. She allows herself two extra hours in case of traffic or weather or other delay, enough leeway so that she is at the hotel to greet the team when they arrive.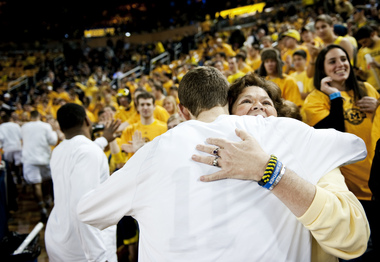 Daniel Brenner I AnnArbor.com
Funny thing is, she hates to drive. She was glad for the many years that Carl (Bud) and Florence Ernst traveled with her. Bud preferred to drive. Then when Pat Hatch, whose father, Henry, was the U-M equipment manager for 42 years, retired from teaching, she accompanied Dottie to every away game for more than 20 years and shared the driving.
"My rule of thumb has always been that if the trip is longer than a 24-hour drive one way, I will fly," Dottie said. "I may lower that number since travel is getting more difficult. But I don't have any plans to stop soon; I would like to die at a basketball game."
Now that Dottie has been doing this for so many years, she can't imagine stopping. She said she would wonder, 'Will the kids think I forgot about them? Will they know I'm not there? Will they miss me?"
This is her family, after all, and she feels that her presence and support makes a difference, at least to some of the individuals if not to the team as a whole.
"One of my most prized possessions," she said, "is a letter from a walk-on written during his senior year. Part of it read,'It seems to be your goal to make us all feel important to you. You succeeded with me.'"
For Dottie, that's a good return on her money. She realizes she has chosen an expensive hobby. 'Had I not chosen it, I could be living in a mansion instead of where I am. But I have no regrets."
P.S. What does she think of the 2012-13 squad? "I love this team. The first time I saw them, I said, 'Well. We might have something here.' They are unselfish, they truly like each other, and are willing to give up the ball for each other. They are a diverse, interesting group, and can go a long, long way."
Bob Horning is a lifelong Ann Arbor resident who writes U-M sports human interest stories for AnnArbor.com. If you have ideas for future columns, please email news@annarbor.com.