Posted on
Sat, Feb 16, 2013 : 5:58 a.m.
IHA plans to consolidate practices in new medical center building at Domino's Farms
By Amy Biolchini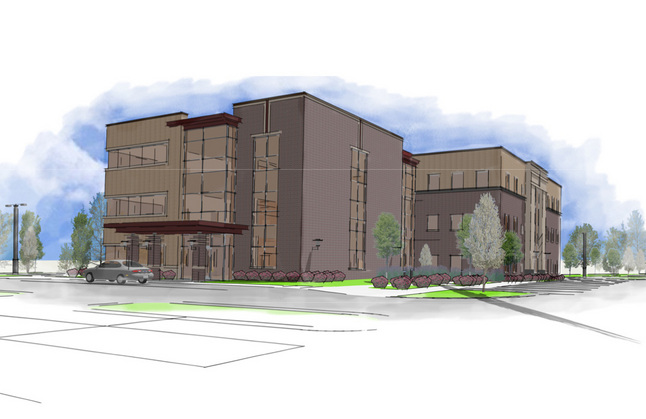 Courtesy of IHA
Construction of a new 44,000-square-foot
medical center
being built to suit health care provider
IHA
is expected to begin this spring at
Domino's Farms
Office Park in Ann Arbor Township.
The new medical center will allow IHA to consolidate a number of its physicians that practice in other Ann Arbor facilities that IHA leases — including the eight doctors and licensed practitioners that work at IHA Internal Medicine on Commonwealth Boulevard in Ann Arbor.
"We're always excited to bring a number of practices together in one location," said Lowell Sprague, vice president of finance and CFO of IHA. "It creates synergies between providers."
Sprague is also the managing director of EP2 Investment Holdings LLC, the developer that has built eight other buildings for IHA.
The Ann Arbor Township Planning Commission has approved a three-story, 44,000-square-foot facility, which is being built by a developer for lease by IHA. It's located in the southeast corner of the intersection of Whitehall Drive and Earhart Road.
Construction will begin in April, and is expected to last from 12 to 14 months. The new medical center will open in 2014.
The new building will house multiple services: internal medicine, pediatrics, imaging, neurology, after-hours care and obstetrics and gynecology.
IHA is a medical service provider owned by Trinity Health and is operated by St. Joseph Mercy Health System. It encompasses 310 doctors, nurse practitioners, physician assistants and midwives in 36 practices across southeast Michigan.
IHA will be one of four tenants with lease agreements for space in the new facility. The others are a St. Joseph Mercy Health System lab on the first floor; Clinsite Research on the second floor, which will provide clinical lab and physical therapy services; and a tenant on the third floor that will provide physical therapy services.
The new facility will house IHA doctors and other providers that the organization is relocating from four other practices in the Ann Arbor area.
Sprague said IHA will be ending its leases for its IHA Internal Medicine services at 2090 Commonwealth Blvd., IHA Primary Pediatrics at 3055 Plymouth Road and neurology services at Domino's Farms. Additionally, IHA will be moving its obstetricians and gynecologists from IHA Ann Arbor OB/GYN - Arbor Park at 4940 W. Clark Roard in Ypsilanti, to the new medical center.
Arbor Park is owned by EP2 Investments.
The Washtenaw County Road Commission recently approved a road improvement agreement with Domino's Farms Land Development.
EP2 and Domino's Farms will fund the addition of a turn lane on Plymouth Road at the Earhart Road intersection, Sprague said.
After the construction of the medical center building, the Earhart Road and Whitehall Drive intersection may receive a traffic signal if the developer deems it necessary.
Amy Biolchini covers Washtenaw County, health and environmental issues for AnnArbor.com. Reach her at (734) 623-2552, amybiolchini@annarbor.com or on Twitter.