Posted on
Fri, Feb 15, 2013 : 6:50 p.m.
Saline woman home from stranded Carnival cruise ship: 'I'm not going camping in the ocean anymore'
By Kyle Feldscher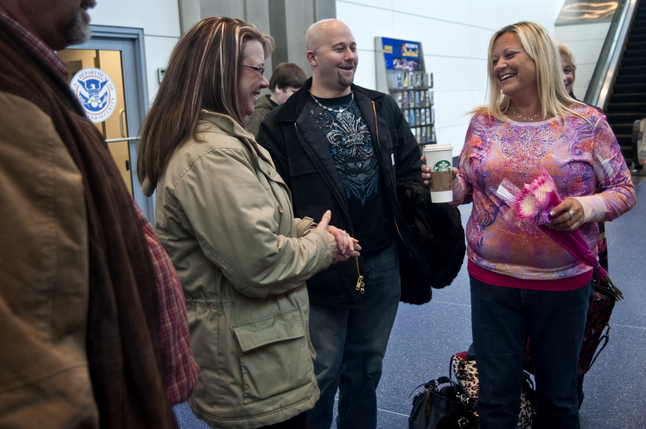 Joseph Tobianski | AnnArbor.com
Gina Howe
stood in the baggage claim of Detroit Metro Airport Friday afternoon, surrounded by her family members and occasionally tearing up when speaking about
her experiences on the cruise ship Triumph.
But, the reason she made it through being stranded with 4,200 other people on Carnival's stalled ship shone through.
"I'm not going camping in the ocean anymore," she said with a smile and sleep-deprived eyes. "You know why? You can go to the bathroom in the woods. You can't in the ocean."
Howe, 44, of Saline, and her family all laughed. At the end of such a terrible experience, she was somehow finding the humor in all of it.
Only she knows if the jokes about the filth on board the Triumph will actually make up for living through it.
Howe boarded the ship with her friend, Carrie Mason Burgess of Texas, on Feb. 7 for a cruise that was set to last until Monday. She said everything was great until Sunday morning when a fire in the ship's engine room brought everything to a halt.
Within days, she said it was impossible to stay in her cabin for three minutes. Her jeweled flip-flops were ruined by the sewage in the ship's hallways. Piles of urine-soaked tissues piled up next to inoperable toilets.
"That boat was a junk case, it was horrible. It was disgusting," she said. "There were piles and piles of poop in buckets. In tubs, everywhere, down the halls."
The piles of human waste scattered throughout the boat would have been enough to put anyone's health in jeopardy. However, Howe had an extra element of danger: She's a diabetic and was running out of insulin.
Howe said she packed extra insulin, but went to a nurse on the ship to see if extra supplies would be available. She said the nurse told her to come to the infirmary and see a doctor when she needed some more.
But when the time came, a doctor told Howe there was no such supply of insulin. At that point, she turned elsewhere.
"I have a lot of faith in God. I knew everybody was praying and God had me," she said, choking up.
She survived by eating mostly fruit, vegetables and bread for the past five days. On the last night, the passengers were served steak and lobster and the crew cleaned up the boat. She called that "a fraud."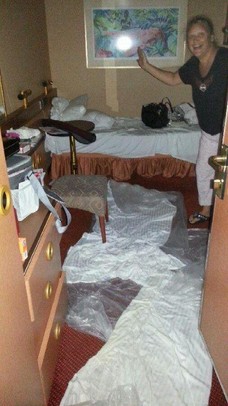 by Gina Howe
Most of the time, Howe and Burgess spent their time lying on deck. They slept under the stars to escape the heat and stench coming from below deck and commiserated with the other passengers.
For the most part, there was no trouble with fellow passengers, she said. There were a few people she felt she should stay away from on board, but there weren't any major problems.
The only night she was worried about passenger behavior was the second night after the ship was stalled.
"They gave them beer and wine that second night we were stuck at sea," she said. "And, it was willy nilly. People were carrying bottles of beer. I was very unsettled with that, it was not comfortable."
Since departing the Triumph in Mobile, Ala. at 12:45 a.m. Friday, Howe's taken a bus to New Orleans and a flight to Charlotte before arriving back home. At the airport, she still had't received insulin, let alone any real sleep, since she got off the ship.
It's unlikely she'll get a chance to really rest for a few more hours. Howe's next stop after the airport was the emergency room — a rash developed on her leg after she slipped and fell in the hallways of the boat during departure. She rolled up her pant leg Friday afternoon, revealing a red blotch covering most of her ankle and lower leg.
"I don't know what it is, it doesn't hurt," she said.
Howe said her two main plans when she got back home were to drink some Starbucks — she squealed in delight when she was handed a large cup from the coffee chain — and to go to bed.
Howe and Burgess went on the cruise to honor a childhood friend who recently died. Family members who spoke to AnnArbor.com said it was the second one of Howe's close childhood friends to die recently, and it stands to reason the nature of Howe's trip might have put a damper on her spirit.
After all, she went on a cruise in remembrance of a friend and the thing stalled out in the middle of the Gulf of Mexico. Surely she'd feel like the ideals behind the trip were a little tainted?
"Absolutely not. She wanted us there more, she wanted to keep the party going," Howe said, laughing, "which is what we always did."
Kyle Feldscher covers cops and courts for AnnArbor.com. He can be reached at kylefeldscher@annarbor.com or you can follow him on Twitter.