Posted on
Wed, Dec 22, 2010 : 6:02 a.m.
Impact of hexavalent chromium detected in Ann Arbor drinking water unclear
By Juliana Keeping
An environmental watchdog organization announced earlier this week it detected a potentially harmful industrial pollutant called chromium-6 in Ann Arbor's tap water.
That was among the findings of the Environmental Working Group's national report that asserts millions of Americans might be drinking tap water that contains some level of the probable human carcinogen.
But what does that mean?
Clear-cut answers may not exist yet. But the report, released Monday, has raised all sorts of questions, a University of Michigan expert said Tuesday.
"This is the kind of investigation that raises eyebrows, and that will hopefully generate additional testing so we have a fuller picture of what the exposure profiles are like in any given community and what the incremental risk of cancer might be," said Howard Hu, a professor and chair of environmental health at the U-M School of Public Health.
Officials from the EWG, a Washington D.C.-based non-profit, detected chromium-6 at .21 parts per billion in a single sample of Ann Arbor tap water taken from one residence in the spring.
Chromium-6 is also called hexavalent chromium. While it can occur in nature, it is also an industrial pollutant discharged from metal-plating and leather-tanning facilities, as well as steel and pulp mills. The human body, depending on the acidity in the stomach, can convert chromium-6 to less toxic forms — and to some extent, the conversion also occurs in nature, Hu said.
"This is a snapshot of contamination, and indicates the contaminant is present in the water of Ann Arbor," Rebecca Sutton, a senior scientist for the Environmental Working Group, wrote in an e-mail to AnnArbor.com.
A lab test showed the Ann Arbor sample was three-and-a-half times the .06 ppb limit proposed by California officials in 2009. Much higher levels were detected in other cities. Of 35, 31 had chromium-6 in the drinking water. The highest level detected was 12.9 ppb in Norman, Okla.
So what does .21 ppb of chromium-6 mean for Ann Arbor residents?
"No one really knows," Hu said.
California is the only state that requires municipalities to test for chromium-6, according to the EWG. Officials there took the first step to establish a statewide-enforceable limit of chromium-6 in response to recent research that links the chemical in drinking water to an increased risk of rare gastrointestinal tumors in lab animals.
"There's no expectation that if you're over .06, you're automatically going to get cancer," Hu said. "But I think that what's less clear is what is the incremental risk that one could anticipate once you go over the proposed safe limit. Let's say you go double — .12 — in a community of 100,000 people. How many people will get cancer who would not have gotten cancer otherwise after drinking the water for 20 years?"
"I haven't seen a good risk analysis of that yet," Hu said.
According to the EWG, the EPA doesn't require municipalities to test specifically for chromium-6 and hasn't established any legal threshold for how much of it can be in drinking water. It is, however, classified as a probable human carcinogen by the federal government.
Molly Wade, water treatment services manager for the city, said Ann Arbor tests its water supply once a year for all types of chromium, though the EPA requires testing only every nine years. The detection limit for the test they use is 2 parts per billion. The levels of all chromium read "non-detect," which means they are under 2 ppb, she said. The EPA standard for total chromium is 100 ppb.
That means the water is safe under the current EPA standards.
The EWG argues in its report that the federal standard for total chromium is too vague and too high. The standard includes an essential mineral called trivalent chromium, which regulates glucose metabolism, as well as chromium-6, the probable human carcinogen, and other types.
"The 100 ppb limit is designed to protect against skin irritation, and doesn't consider cancer at all," Sutton said in an e-mail to AnnArbor.com.
According to the EWG, the majority of chromium it detected in the drinking water in 31 of 35 cities it tested for its report was the hexavalent form.
Hu said hexavalent chromium is a carcinogen that carries a risk of respiratory cancers. But things are less clear when the water-soluble pollutant shows up in drinking water — as well as more controversial, Hu said.
"There's been quite a bit of recent research…the EWG goes over some of the controversy surrounding industry-funded studies," Hu said.
Sutton said she hopes the report prompts the EPA to recognize hexavalent chromium contamination is widespread.
"We need a drinking water safety standard to protect public health," she added.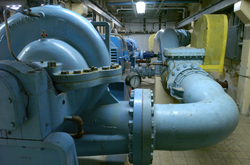 File photo
In 1996, California resident Erin Brockovich helped cancer-stricken residents and their families in Hinkley file a lawsuit against Pacific Gas & Electric Company for contaminating their drinking water with hexavalent chromium. The suit resulted in a $333 million settlement from the company; the saga inspired the 2000 film starring Julia Roberts. Levels of hexavalent chromium in Hinkley's groundwater supply were as high as 580 ppb.
"We now know that this is not an issue confined to Hinkley, California, it's something that impacts the nation," Sutton said via e-mail.
Hu agreed.
"I think the rest of the country is behind in trying to both appreciate the importance of distinguishing hexavelant chromium from other forms and in doing the kind of testing with sensitive instruments that would be able to test for chromium-6 levels as low as .06 ppb," Hu said.
But Hu added there are levels of uncertainty involving the findings.
There are sub-groups of the population who are more susceptible to chromium-induced toxicity and cancer, Hu and the EWG said. It's not clear whether California's proposed .06 ppb limit would protect that group. Hu wondered what the distribution of chromium-6 at any one time in a range of households might be. That's not clear either, since the EWG only tested a sample of tap water from one Ann Arbor household.
Hu said he is familiar with the EWG, which in the past has criticized the Food and Drug Administration for its standards involving the toxicity of bisphenol-A, a common chemical used in re-usable water bottles, the protective lining of metal food and beverage cans and many other common products. The FDA commissioned him to provide outside expert review of the EWG's report on BPA.
In 2008, the FDA withdrew its draft statement on BPA and is still working on a review, Hu said.
"They were among the first (non-governmental organizations) pushing the scientific community and the public to have a broader appreciation for the recent science and its implications," rather than accepting federal standards, he said.
BPA has since captured global attention as an environmental contaminant with endocrine-disrupting properties. Scientists have recently linked the chemical that makes plastic hard and clear to everything from fertility problems to early puberty in American girls.
Juliana Keeping is a health and environment reporter for AnnArbor.com. Reach her at julianakeeping@annarbor.com or 734-623-2528. Follow Juliana Keeping on Twitter