Posted on
Mon, Sep 9, 2013 : 5:59 a.m.
5 things I learned while serving as a U-M 'ambassador' during the Notre Dame night game
By Kellie Woodhouse
In a sea of maize and blue Saturday night, I was a speck of orange.
No, it's not because I'm a fan of the Netherlands soccer team.
I was volunteering as an ambassador, serving as an extra set of eyes and ears for the University of Michigan and the Ann Arbor Police Department as 115,000 fans filtered into Michigan Stadium Saturday night and thousands more tailgated in the yards and bars downtown.
The game, which ended with Michigan beating Notre Dame 41 to 30, was the second night game in Big House history and the last time, for now, that the Wolverines will battle the Fighting Irish in Ann Arbor.
U-M and city officials knew from the start that the energy —as well as the potential for confusion and disorder— would be high and asked people to volunteer for two hour shifts Saturday to keep watch over downtown and help visitors with questions.
"Your visibility will be a great deterrent in itself, the fact that people see you're out and about," Ann Arbor Police Department officer Tom Hickey said during my 90-minute ambassador training Saturday. As it turns out, 72 people were ejected from the stadium on Saturday, out of a record-breaking crowd of 115,109.
About 100 people heeded the call to volunteer, and I was one of them. Here's what I learned during my 7 p.m. to 9 p.m. shift: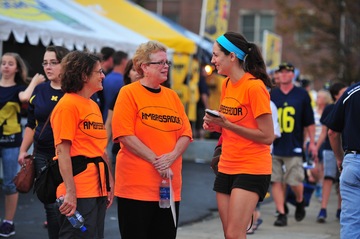 Ryan J. Stanton | AnnArbor.com
1) People who volunteer as ambassadors are a rare but very kind breed.
Volunteers didn't get paid, we didn't get entry into the game after our shifts were over... heck, we didn't even get to keep our obnoxiously bright orange T-shirts. We did, however, have to attend a 90-minute training, check in at the Michigan Union before heading over to our patrol area and head back to the union to return our shirts.
So going into this experience, I was curious to see what motivated people to come out and volunteer— because I was pretty sure it wasn't the chance to win an Apple gift card or a pair of tickets to the Akron game this weekend.
What I learned was pretty cool. A good amount of volunteers was from U-M's Greek Life community, but the majority were probably local citizens over the age of 50. Most of the latter group volunteered because they care about Ann Arbor and like new experiences.
Becky Davis was in my Saturday noon training session. She's from Chelsea and works at a local truck stop as a coffee hostess. One of her frequent customers told her about the volunteer opportunity, so she signed up. She said it was the perfect opportunity to put her people skills to work. "Talking to people, that's what I do," she told me.
What's almost unbelievable is that Becky hasn't attended a football game since the 1970s, but she volunteered anyway. I hope she wins a pair Akron tickets.
2) Please don't shoot the messenger.
No purses allowed in the stadium. No exceptions.
Let me repeat, no purses. Part of our job was to let people know they couldn't bring restricted items, including bags and purses, into the stadium. I thought most people knew that already. Boy was I wrong.
This part of the job definitely did not help me win any popularity contests. Many people with purses had already walked a long distance from their car to the stadium, so they weren't happy about trekking all the way back to their vehicles and missing kickoff.
One guy took a woman's purse and shoved it far down his pants. I think he was able to successfully sneak it in, but I don't know why that woman would ever want to touch her purse again.
As my group told people, as kindly as possible, that they'd have to chuck their purses, we received some colorful responses.
One guy spat a profanity at me when we told his mom that her overflowing handbag wouldn't be allowed in the stadium. Befuddled by the rule, he told me: "Well, women and purses, they go hand in hand."
He headed back to his car and about 15 minutes later he passed me again as he shot me a very withering stare.
3) Come on guys, plan your ticket purchases ahead of time.
It didn't take me long to get over the stare because the drunk people standing outside the stadium were ridiculous, and mostly entertaining. Well into the second quarter there were dozens of people still sticking their hand up, with one or two fingers pointed to the air to indicate they were looking for tickets.
Really? The game is halfway over and you still think you're going to get a ticket?
I did see a pair of men sell their tickets for $150 apiece, which was surprising because on Friday the cheapest tickets on StubHub were in the $190 range.
Aside from 'What's an ambassador?,' the most common question I received —usually from tailgaters with glassy eyes— was 'Do you have a ticket?'
After asking us what the orange shirts stood for, a pair of men clad in Michigan gear and tailgating on Main Street directly across from the stadium told us about the perils of haggling for last minute tickets. One guy offered them two tickets for $150, but they tried to barter him down to $100. Big mistake, because less than a minute later the tickets were sold to someone else and the opportunity was gone, never to reveal itself again.
When his companion asked if we were getting paid, the failed barterer did offer this: "You couldn't pay someone enough money to do this. They have to do it out of the goodness of their hearts."
After dealing with a few more inebriated people and bucking angry women with purses from the stadium, I have to say I disagree. A paycheck would not have been unwelcome.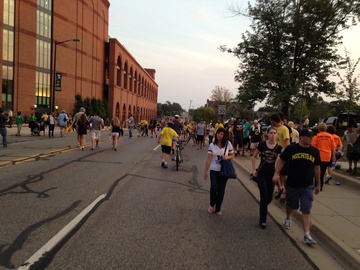 Kellie Woodhouse | AnnArbor.com
4) Football Saturdays are always evolving, which really means becoming louder and boozier.
I was really lucky to be paired with two women from Michigan —one from right here in Ann Arbor and the other from Farmington Hills and whose daughter lives in Tree City. They knew a lot of history about Ann Arbor and the atmosphere around Football Saturdays and they were kind enough to share it with me.
When Amy Colton was a kid, she used to sell CocaCola to fans inside Michigan Stadium. The going rate for a cup? Seventy-five cents. She lived near Bo Schembechler and recounted a story of how the coach lifted the spirits of her son on his 16th birthday.
Both Amy and our other partner Sue Cooper explained to me how tailgating had morphed since their college days. Back then, there were no large flatscreen TVs or plush couches in the yards, and the music wasn't nearly as loud. Drinking, they said, has become much more public— for better or worse.
Also, they told me that fans used to be able to get into the stadium for free after halftime. That's a practice I'm sure many in Ann Arbor would be happy to see reinstated.
5) Binoculars are allowed in the stadium.
I feel compelled to end this column in an apology. In the midst of telling people their purses, water bottles and zippered cushions couldn't go into the stadium, we led one fan astray.
As he was barreling toward the entrance, my group stopped a man with binoculars around his neck and told him the field glasses were prohibited. In reality, binocular cases are prohibited and not binoculars themselves.
What makes this worse is the guy was very nice about it, much nicer than most of the ladies who had to return their purses to their cars. He ran off to hand the binoculars off to his wife.
It took my group of three less than a minute to realize our advice was wrong, but when we looked for the man he had disappeared into the sea of maize and blue.
So, to this man let me say I'm sorry. I hope you realized we were wrong. If not, and you end up reading this, I'll buy you a beer.
Kellie Woodhouse covers higher education for AnnArbor.com. Reach her at kelliewoodhouse@annarbor.com or 734-623-4602 and follow her on twitter.