Posted on
Sun, Dec 11, 2011 : 6 a.m.
In tough times, let's focus on keeping Ann Arbor's warming center open
By Tony Dearing
See related story: 415 W. Washington not a good site for 24-hour warming center, Ann Arbor officials say
If Washtenaw County already has an overnight warming center to serve the homeless during winter, does it need a second one, staffed by volunteers and open 24 hours a day?
Occupy Ann Arbor says yes, but we're unconvinced. We think the community's efforts and resources could better be directed toward keeping the existing warming center open at a time when its future is in doubt.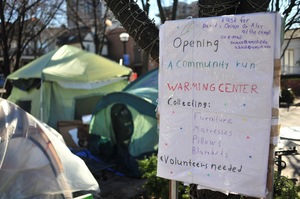 Ryan J. Stanton | AnnArbor.com
Organizers of the local Occupy movement
went before City Council in November
to appeal for support in helping to locate, and perhaps even financially support, a proposed 24-hour warming center.
Occupy Ann Arbor says foreclosures and a struggling economy mean that more people will be homeless this winter, and the existing overnight warming center being operated by the Shelter Association of Washtenaw County can't meet the need. Nor is there currently any walk-in daytime warming center in Ann Arbor.
The Occupy movement envisions a 24-hour warming center "democratically run by homed and homeless volunteers'' who would "combine their skills, explore their creativity and support and empower each other.'' Occupy supporters have been circulating petitions and conducting fund-raisers on behalf of this project, and hopes to open the center yet this month.
As much as we admire Occupy Ann Arbor's advocacy on the issue and the earnestness of its efforts, we share the concern of city officials that there isn't enough money available right now to properly support the overnight shelter we already have, let alone try to revive something that has proven unworkable in the past.
Ann Arbor has not had a day-time warming center for the homeless since 2003, when the building housing Ashley Place was torn down. During the years prior to that, the Ashley Place warming center was a constant source of problems, and police or paramedics were frequently called there to deal with fights, drug abuse and medical emergencies.
More recently, First Baptist Church in Ann Arbor undertook a well-meaning effort to help the homeless by erecting a wooden pavilion to shelter individuals who had been sleeping outside on church property. But the church gave up the effort in 2010 because the rudimentary shelter had become a place where people came to drink and take drugs, and fights frequently broke out.
Homelessness is a complex, intractable problem fed not just by a tough economy, but also by issues of substance abuse and mental illness. Volunteers, no matter how well-motivated, are typically not equipped to address such issues.
When we look at what has worked in Washtenaw County — and more importantly, what hasn't — we're convinced that programs serving the homeless are more successful when they are professionally staffed, and when they are designed to address the underlying issues of homeless individuals and move them toward permanent housing. That is the ultimate goal. To simply warehouse the homeless is to perpetuate the problem.
We would be the first to agree that current programs do not meet all the need that exists in the community, and when we have people sleeping outdoors under bridges or on park benches in the dead of winter, we as a community should feel compassion and concern. However, we think the best way to channel that concern is into greater support for existing, proven programs.
Right now, the Shelter Association operates both the Delonis Center, a year-round residential program that can house about 75 people, as well as an overnight warming center that can accommodate about 25 people during the winter. A rotating program run by several local churches also shelters about 25 people a night during the winter.
Earlier this year, severe funding cuts forced the Shelter Association to consider not operating the overnight warming center this winter. The program was saved when the Ann Arbor City Council stepped in and voted in October to provide $25,000 in funding. We applaud council for moving to preserve the overnight warming center.
But the Shelter Association is only committing to continue the program for one more year, and says a long-term solution has to be found to sustain the effort. A number of local service providers are convening a working group to look into the issue and develop a new plan for housing the homeless during the winter months. That group is expected to begin its work after the first of the year.
We will be following the work of this group, and reporting its efforts to the community. In these times of scare resources, we need this kind of collaboration, not duplication or fragmentation of services. Community members and organizations that are concerned about homelessness and want to help would do well to throw their energy into the effort to preserve the overnight warming shelter we've already have.
(This editorial was published in today's newspaper and reflects the opinion of the Editorial Board at AnnArbor.com.)