Posted on
Tue, Jul 9, 2013 : 6:58 a.m.
Increasing popularity of carrying concealed guns prompts county office to bolster staff
By Amy Biolchini
Editor's note: This story was edited at 9:45 a.m. for clarity on the CPL renewal process.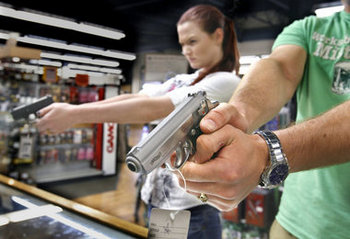 MLive.com file photo
Washtenaw County
officials are anticipating a record year for the office that handles
gun permits
— and are responding in turn by requesting increased hours for staff.
Since 2008 an increasing number of people have been filing applications for Concealed Pistol Licenses (CPL) in Washtenaw County, records show.
In the first quarter of this year, there have been nearly double the number of applications during the first quarter of last year.
Washtenaw County's Elections and Administration Division processes the CPL permit applications. Staff is requesting the Board of Commissioners approve turn a part-time administrative coordinator into a full-time position to handle the influx of paperwork.
The office anticipates this year will be a busy one for another reason because of permit renewals as well.
CPL permits expire five years after they're issued. The jump in permit applications in 2008 means a wave of individuals will be in the office this year to renew their license — for a $105 fee and some paperwork.
The Michigan State Police tracks all registered weapons and CPL permits. The following is from the annual concealed pistol licensing report for Washtenaw County:
July 1, 2006 - June 30, 2007: 620 applications received; 546 permits issued
July 1, 2007 - June 30, 2008: 722 applications received; 605 permits issued
July 1, 2008 - June 30, 2009: 1,853 applications received; 1,563 permits issued
July 1, 2009 - June 30, 2010: 2,360 applications received; 2,425 permits issued
July 1, 2010 - June 30, 2011: 1,957 applications received; 1,999 permits issued
President Barack Obama's win of the 2008 election initiated a fear among some citizens that the country's gun laws would change - prompting a wave of CPL applications, said Ernest Milligan Jr., chairman of the Washtenaw County Concealed Pistol Licensing Board.
"People just have this fear factor that they're going to lose their gun and lose their ammunition," Milligan said. "I'm assuming they're going to slow down soon … The next wave will be renewals."
Milligan said the gun board has seen an increase in women applicants for CPLs during the past several years. Ages of applicants vary widely, from younger adults to individuals in their 70s and 80s, Milligan said.
In Washtenaw County as of July 1, there are 11,643 active CPL permits — 177 of which have been denied, 1,261 of which have expired, 125 of which have been revoked and 93 of which have been suspended, according to MSP data.
Michigan has a total of 502,433 active CPL permits. Wayne County has the highest number of active permits in the state at 98,607.
Ed Golembiewski, elections director for Washtenaw County, said generally it takes one to three months to process an application for a CPL.
After filing an application, paying the $105 filing fee and submitting a photograph, the office files the application in their database and requests any documents that name the individual from the MSP and the county.
The $105 fee is split between entities in the process: $64 goes to the MSP, $26 goes to the county and $15 goes to the Washtenaw County Sheriff's Office.
The applicant then goes to the Washtenaw County Sheriff's Office for fingerprinting, where they run a background check.
The Washtenaw County Concealed Pistol Licensing Board then reviews the applications. The board, which consists of a citizen member, a sheriff's office representative and an MSP representative, meets about once a month to conduct their business.
Board members are often contacted by other law enforcement agencies and family members regarding individuals with CPLs that need to be reviewed, Milligan said. Milligan is a former sheriff's deputy and is a firearms instructor.
"We review anyone with a criminal history issue," Milligan said.
Licenses are most commonly revoked because of felony and misdemeanor offenses, state records show.
Applying for a CPL the first time requires an individual to present a certificate showing they have completed a firearms training course.
However, when an individual renews their CPL, they're required to sign a written statement that they've completed at least three hours of review of the pistol safety training course and have spent at least one hour of time at a firing range in the six months prior to the renewal application.
"There's no accountability where you have to bring in something to say you did it," Milligan said. "I'm not saying everyone is a liar, but you know people are not telling the truth all the time. … In any event that we find that they're not telling the truth, the gun board can call them in and revoke (their CPL)."
Amy Biolchini covers Washtenaw County, health and environmental issues for AnnArbor.com. Reach her at (734) 623-2552, amybiolchini@annarbor.com or on Twitter.