Posted on
Sat, Jan 9, 2010 : 12:57 p.m.
Injured fox picked up on Ann Arbor's southwest side Saturday morning euthanized
By Stefanie Murray
An injured fox spotted in a southwest Ann Arbor neighborhood was picked up by the Humane Society of Huron Valley early today and was later euthanized.
Humane society spokeswoman Deb Kern said veterinarian Carrie Allen evaluated the animal and determined it had neurological problems from distemper. The fox could not be rehabilitated and would be a danger to humans, Kern said.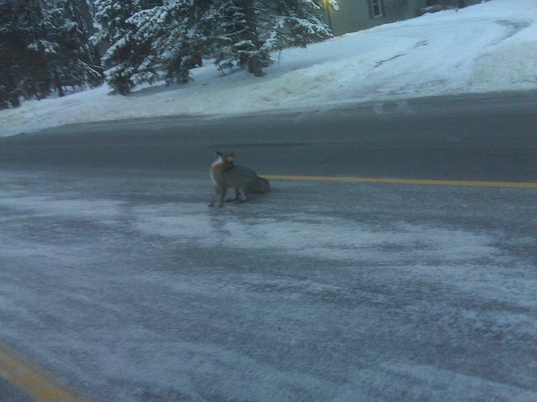 Courtesy of Shannon Kos
The sick animal was reported to Ann Arbor police at about 8 a.m., Sgt. Tom Hickey said. It was spotted near the intersection of Scio Church Road and Mershon Drive. 
Officers located the fox, determined the animal was injured and called the humane society.
Cruelty investigator Thomas Klee captured the animal.
"It's unusual to see a fox hanging out," Kern said. "Normally you would not be able to easily catch a fox, but this one was so sick, it could be easily caught."
Kern said anyone who sees wildlife that appears to be injured should never approach the animal, and should instead call the humane society.