Posted on
Wed, Nov 30, 2011 : 7:26 p.m.
Injuries from mechanical bull at Ann Arbor bar prompt lawsuit
By Lee Higgins
A woman who was struck in the face by the head of a mechanical bull after being thrown from it at an Ann Arbor bar in 2008 is alleging that she was injured because the bar didn't do enough to ensure the safety of customers riding the bull.
Stephanie Fraser of Wixom is suing The Fifth Quarter, a bar that used to operate on South Fifth Avenue, but closed in the spring after a string of problems with police.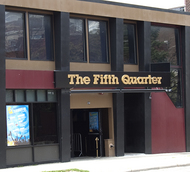 The suit, filed Nov. 23 in Washtenaw County Circuit Court, seeks an unspecified amount of money.
According to the suit, Fraser was ejected from a mechanical bull Dec. 5, 2008, after riding it for about 10 seconds at the bar, where she was attending a friend's birthday party. As she attempted to stand, the suit says, the bull continued to move and buck, and its head struck her "forcefully in the face." It then moved "wildly" for another five to eight seconds, the suit claims.
Fraser suffered a closed head injury, fractured nasal bone and abrasion that resulted in permanent scarring, the suit says. She's alleging that the bar was negligent.
The suit claims the business had a duty to use "reasonable care and caution to prevent injuries to its patrons" while they were riding the bull. The suit says the bar breached that duty by failing to operate the bull in a careful manner, failing to stop the bull after Fraser fell or by not having employee-operated controls in place to stop the bull in an emergency.
According to the suit, Fraser has suffered physical and mental pain, lost wages, humiliation and embarrassment.
Attorney David Rosenberg, who has represented The Fifth Quarter in the past, could not be reached for comment Wednesday.
Lee Higgins covers crime and courts for AnnArbor.com. He can be reached by phone at (734) 623-2527 and email at leehiggins@annarbor.com.