Posted on
Fri, Oct 22, 2010 : 3:12 p.m.
Inmate hangs himself, another attempts suicide at Washtenaw County Jail
By Lee Higgins
A parolee who investigators say robbed an Ypsilanti Township pizzeria in September while he was wearing a GPS monitoring device hanged himself in a Washtenaw County Jail cell last week, sheriff's department spokesman Derrick Jackson said today.
At 9 p.m. Wednesday, another male inmate attempted suicide in a cell in an unrelated incident by putting something around his neck, Jackson said. He was taken to St. Joseph Mercy Hospital and has no injuries, Jackson said.
Randolph Westbrook Jr., 43, who was charged with armed robbery, was found dead in a one-person cell on Oct. 15, sheriff's deputies said. He hanged himself using a shirt, which was attached to a hinge on a cell door, Jackson said.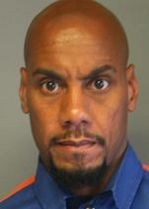 Westbrook was seen alive at 4:09 a.m. and staff members found him dead at 4:35 a.m., Jackson said. Staff members performed CPR on Westbrook before turning him over to EMS officials, Jackson said.
An internal investigation, considered routine in such a death, is underway, Jackson said. According to Jackson, there is no indication any procedures were violated.
Westbrook was paroled in January after serving 23 years in state prison for rape. He was accused of robbing Mr. Pizza in the 800 block of Ecorse Road on Sept. 22.
At 9 p.m. Wednesday, a male inmate on suicide watch threatened to harm himself and put something around his neck in a cell, Jackson said. Jackson said he could not be more specific.
The inmate was removed from the cell and taken to St. Joseph Mercy Hospital, where doctors determined he didn't have any medical problems from the suicide attempt, Jackson said.
Some of the jail's cells are designated for inmates on suicide watch, but Jackson did not know whether that inmate was in one of them.
The jail has a number of surveillance cameras, but the incidents weren't captured on video, Jackson said.
Lee Higgins covers crime and courts for AnnArbor.com. He can be reached by phone at (734) 623-2527 and e-mail at leehiggins@annarbor.com.