Posted on
Wed, Feb 27, 2013 : 9:51 a.m.
Internet restored at the University of Michigan after 5-hour outage
By Kellie Woodhouse
University of Michigan Internet was down for about five hours late Tuesday night into Wednesday morning.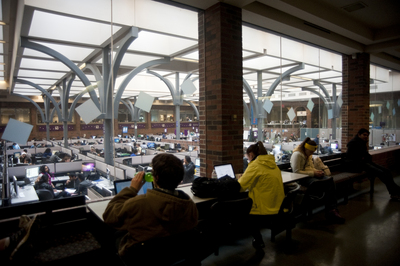 jj
Students on U-M servers could only access university websites and students and staff not on university servers could not access university websites.
U-M students are in the midst of midterms this week.
The outage originated from a problem at the Ann Arbor-based Internet service provider Merit Network, which handles U-M and connectivity at other state colleges, including Washtenaw Community College and Eastern Michigan University.
Full Internet service was restored at 4:52 a.m. Wednesday, after first malfunctioning just before midnight, according to Elwood Downing, vice president of communications for Merit.
"Everything is 100 percent up and operational, Downing said.
U-M first reported an outage at 11:42 p.m. Tuesday, according to an information technology official.
"Our Support Center and engineers began analyzing the effect of the problem and determined that it was an issue with one of Merit's core routers/switches located... in Chicago," Merit said in a statement.
The company moved U-M traffic to another router and is analyzing issues that led to the outage.
"This was not a weather issue, it had nothing to do with the weather or electricity," Downing said.
Kellie Woodhouse covers higher education for AnnArbor.com. Reach her at kelliewoodhouse@annarbor.com or 734-623-4602 and follow her on twitter.