Inventor of downtown Ann Arbor's new 'Whirlydoodles' is looking to go big with next phase
Posted on Sat, Apr 28, 2012 : 5:58 a.m.
After an initial test run in downtown Ann Arbor, local inventor Tim Jones is hoping to roll out his colorful, spinning Whirlydoodle creations on a grander scale.
Think hundreds. Maybe thousands.
About 20 of the small windmills with changing colored lights were installed on light poles around downtown Ann Arbor and elsewhere back in January.
"We've had a tremendous amount of public response," Jones said. "We feel the project has a lot of scientific interest not only for young people but for adults.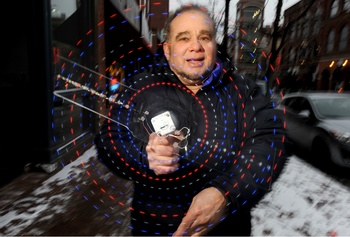 Angela J. Cesere | AnnArbor.com
"I think it'd be pretty spectacular to have a large-scale project where we can actually visualize wind currents," he added.
Joined by Dave Konkle, energy programs director for the Ann Arbor Downtown Development Authority, Jones approached the Ann Arbor Public Art Commission this week.
Konkle said they've talked it over with Aaron Seagraves, the city's public art coordinator, and it doesn't seem likely the city's public art fund could help pay for the next phase.
"We've worked with Aaron and we've tried to understand what are the rules for the commission and the money and everything else and we don't see a way," Konkle said of funding them with city money. "They would have to be, as I understand it, in place for two years."
The trouble with funding Whirlydoodles using public art funds is they aren't all that permanent. According to information submitted to the Art Commission, they have a two-year useful life.
But Jones and Konkle are still seeking the Art Commission's blessing of the idea of mass-producing Whirlydoodles and installing them somewhere prominently. They tossed out the idea of a large installation on the hillside of the landfill at Platt and Ellsworth roads as one option.
The name of the project they're trying to fund is "Visual Wind: A 3D Color Experience." Jones and Konkle submitted formal plans to the commission showing fabrication of 1,000 Whirlydoodles and related materials, including installation, would cost $88,550.
Konkle said Big George's Home Appliance Mart already has committed $10,000 to the project and he's hopeful the Art Commission could help identify other potential funding sources.
They expect to have support from various groups, including the DDA, Ann Arbor SPARK, the Ann Arbor Convention and Visitors Bureau and others.
There wasn't a decision on the Whirlydoodle project this week, but Seagraves said the Art Commission will consider an endorsement of the large installation as a public art project.
"The project is a short-term installation, so it is not likely to be a fundable project using the Art in Public Places funds," he acknowledged.
Jones and Konkle say the immediate appeal of Whirlydoodles is created by their wind speed-dependent color and representation of the rhythm of the normally invisible wind.
"Tim has tinkered over several years to perfect the persistence of vision effect produced by wind-activated mechanisms in the belief that social reaction to a new technology is shaped by emotional appeal and that certain technological representations of environmental processes enhance our experience with nature," the project statement reads.
More recently, Jones has been working to understand the visual effects produced by the sculptural composition of multiple Whirlydoodles.
The project Jones has in mind consists of 1,000 Whirlydoodles installed on a hillside or sloping open area. The windmills would be set in an array across a landscape, with each individual windmill responding to wind speed by producing changes in color and brightness.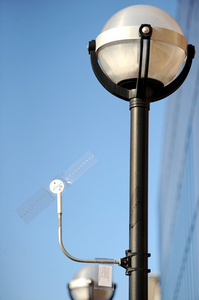 Angela J. Cesere | AnnArbor.com
Observers of the array would see wind actually flowing over the landscape in currents and eddies, similar to the flow of water in a river.
The purpose of the installation is twofold: to create an active artistic landscape where wind currents create movement and lighting and to spark interest in alternative energy.
"It will not only be beautiful but it will be educational," Konkle said. "It would be nationally, as an art project, something that would get noticed. And we've talked with the mayor and the Energy Commission — it would also make Ann Arbor have more wind generators than any other city in the world. … It's a fun project and we're just pursuing this silly dream."
Over the period of several weeks in January, and with the blessing of the DDA, about 20 Whirlydoodles were placed randomly on light poles in the downtown area, including a line of six in a row along the south side of Washington Street between Fourth and Main streets.
Right now the largest installation of Whirlydoodles is at the Leslie Science Center where there are 20 of them on a hillside. Those were installed this month for Earth Day.
"And Tim and I continue to look around town at parks, at businesses, wherever they might be welcome," Konkle said, adding: "I think art in public places is the only thing you can kind of call these Whirlydoodles showing up around town and getting people's attention."